September 16, 2018
SuperTab Supercharges the ⌘+Tab Experience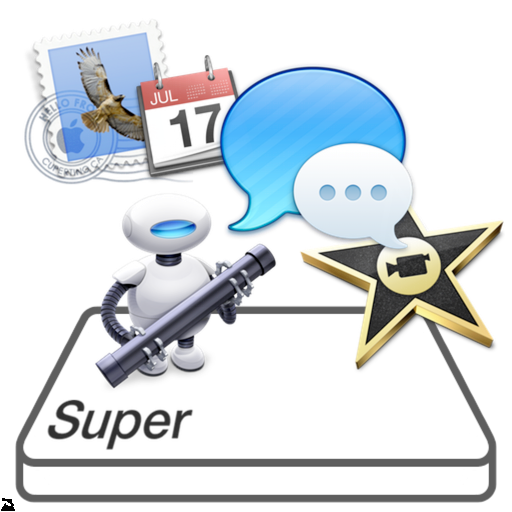 SuperTab Icon
Product: SuperTab
Price: $10 (50% off sale)
The stock macOS function of ⌘+Tab is the list of running apps. Mac users are used to that and use it for switching between applications. SuperTab adds a slew of features to the ⌘+Tab function.
You can define any keyboard command you want, in my case I use ⌥+Tab. This way you can have the standard behavior through ⌘+Tab, while you enjoy the goodness of SuperTab through ⌥+Tab.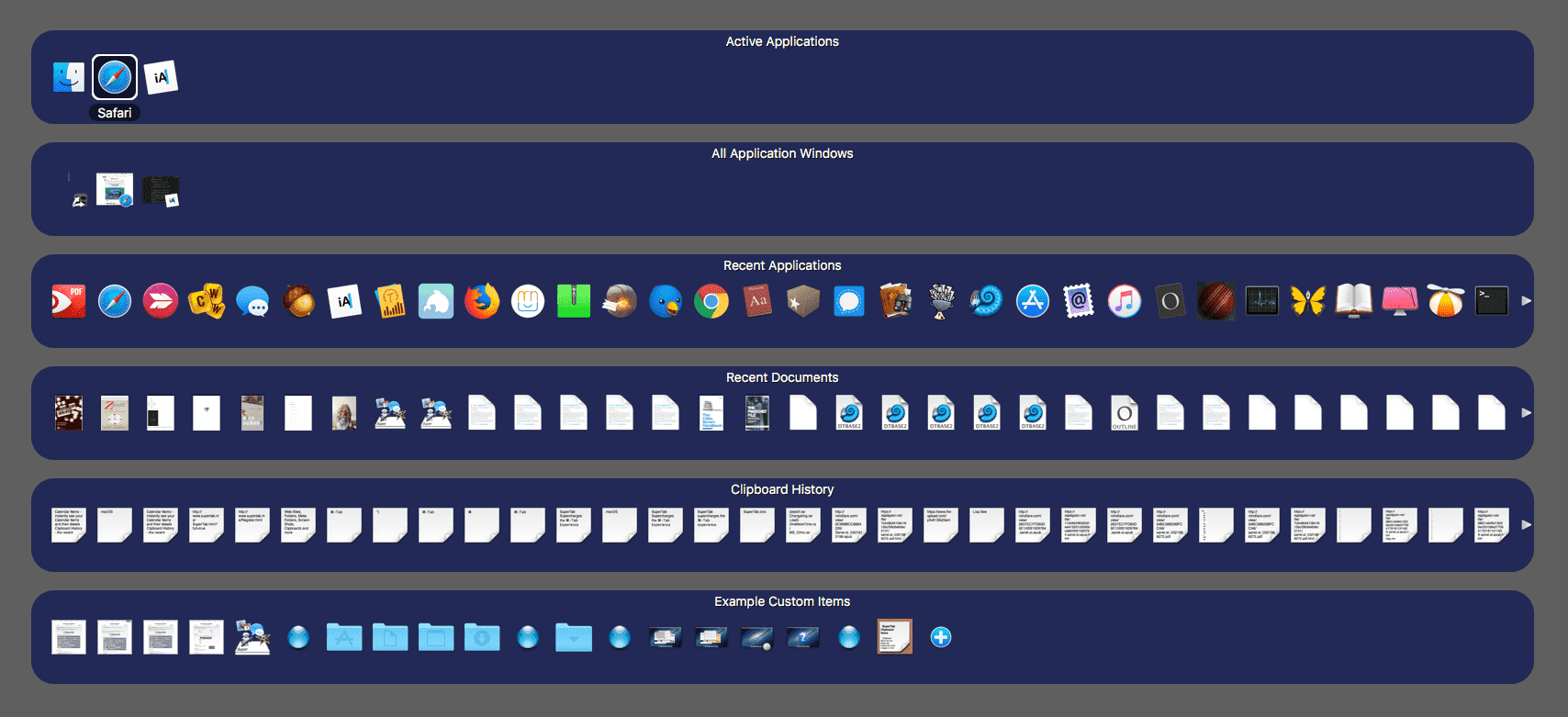 SuperTab
SuperTab gives you complete control over the content of what it calls, Tab Rows. You have the choice of showing the following:
Active Applications - list of active applications. This is the usual system behavior.
Dock Items - the items in your Dock.
Application Windows - the individual windows in your applications. Thanks to the new tab behavior in macOS, you get to open all your tabs in one tabbed window, and SuperTab does not have the ability to show you the individual tabs. It gives you access to the whole tabbed window. That reduces the benefit of having individual application windows accessible.
Recent Applications - this is the list of recent applications you have used.
Recent Documents - the recent documents you have opened.
Dropbox or Desktop Contents
Folder Contents - you can specify the folders you want to access.
Calendar Items - see your Calendar Items and their details.
Clipboard History - the recent contents of your Mac's Clipboard.
Snagit Captures - preview, copy, share and open your Snagit Captures.
Tagged Items - the files, folders & applications with the Tags or Labels you specify.
Sidebar Items - items that appear in the Sidebar of Finder Windows.
Custom Items - this includes saved Spotlight searches, System Preferences, Web sites and a whole host of other items.
SuperTab Preferences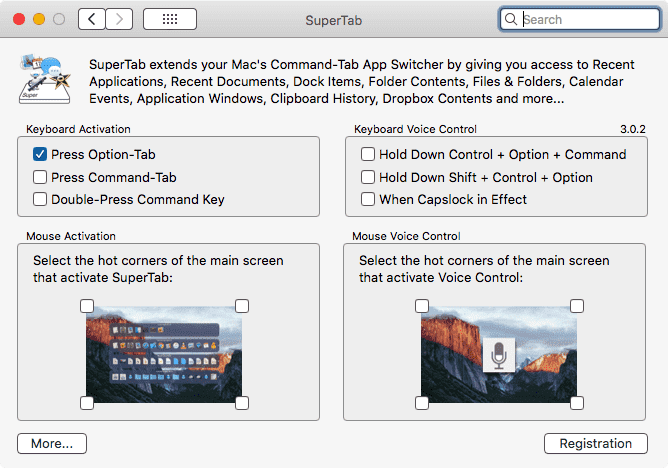 SuperTab Preferences 1
SuperTab is a mature product and it shows in the way the product is designed. There are several ways you can choose to invoke the product.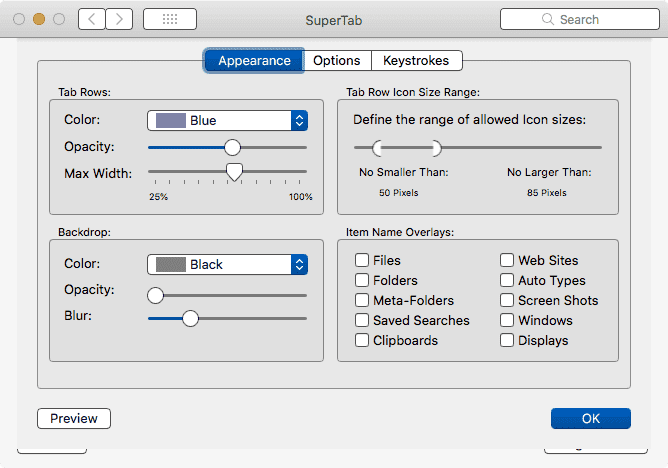 SuperTab Preferences 2
You get to define how the SuperTab window looks and behaves.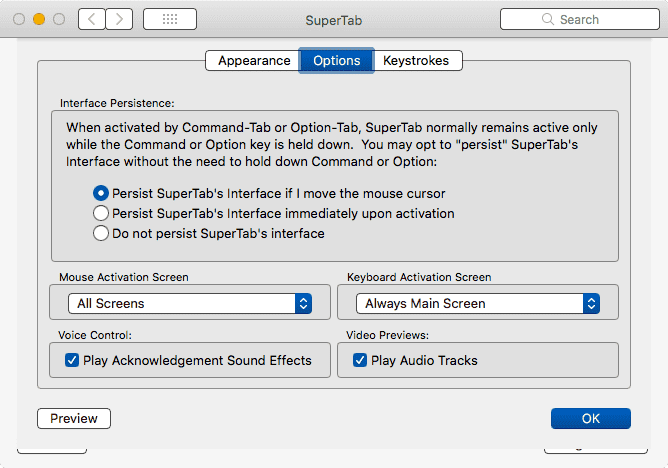 SuperTab Preferences 3
Supports multi-screen workspaces and gives you complete control over the behavior of SuperTab once it is invoked.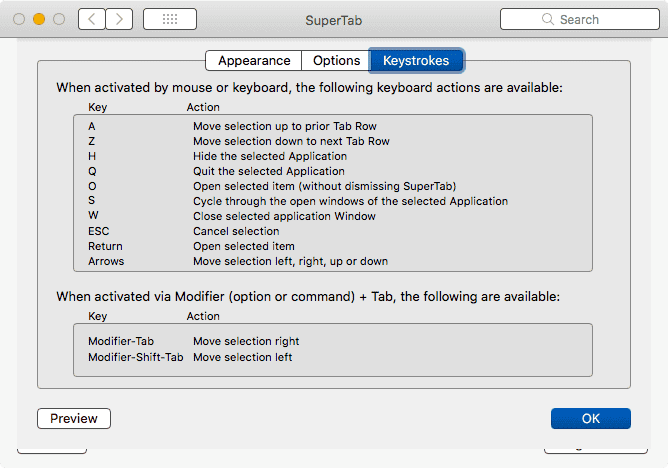 SuperTab Preferences 4
SuperTab is keyboard focused and it gives you the option of a few commands which let you act on a chosen item through the use of keystrokes. Makes the process of working in SuperTab fun and you get to efficiently sling around keystrokes to control your Mac.
Conclusion
SuperTab performs a subset of the actions performed by utilities like Alfred and Keyboard Maestro. If you are not using these macro utilities, you can adopt SuperTab to gain a chest of utilities which are convenient and useful.
This is a mature product which is well-designed, stable and full-featured and is a great product to add to your normal day-to-day workflows with your Mac.
I liked the product but find that I use Keyboard Maestro and Alfred to perform most of the tasks that SuperTab brings to the Mac. Of course, SuperTab is not competing with the macro utilities. SuperTab's charm is that it works out of the box and doesn't require you to write workflows or macros to do any of its tasks. For non-technical users, SuperTab is a great product. For those of you comfortable with writing code, you might want to look at Alfred and/or Keyboard Maestro.
SuperTab is heartily recommended for novice users and users uncomfortable with code.
A licensed version was provided by the developer for a review.
macosxguru at the gmail thingie
---
Previous post
Timing 2 Tracks Time
Timing icon Product: Timing 2 Price: 3 versions with prices of $29, $49, and $79. I am productive. Or as productive as I care to be. I am not
Next post
iA Writer Tackles Tags
iA Writer Icon Product: iA Writer Price: $29.99 Version 5.0 of iA Writer introduced the ability to handle folders and favorites to the minimal