June 11, 2018
Alfred Workflow 02 - System Commands, Clipboard, and a Couple of Workflows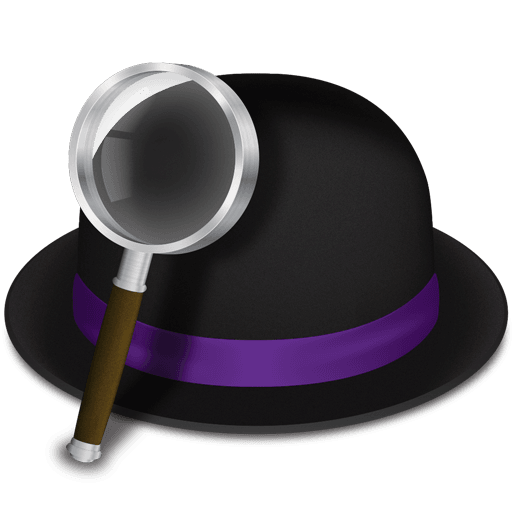 Alfred Icon
The Alfred Workflow 01 - Caffeinate Control - Bicycle For Your Mind was the first in this series.
System Commands
Today I am going to write about some system commands which are built into Alfred.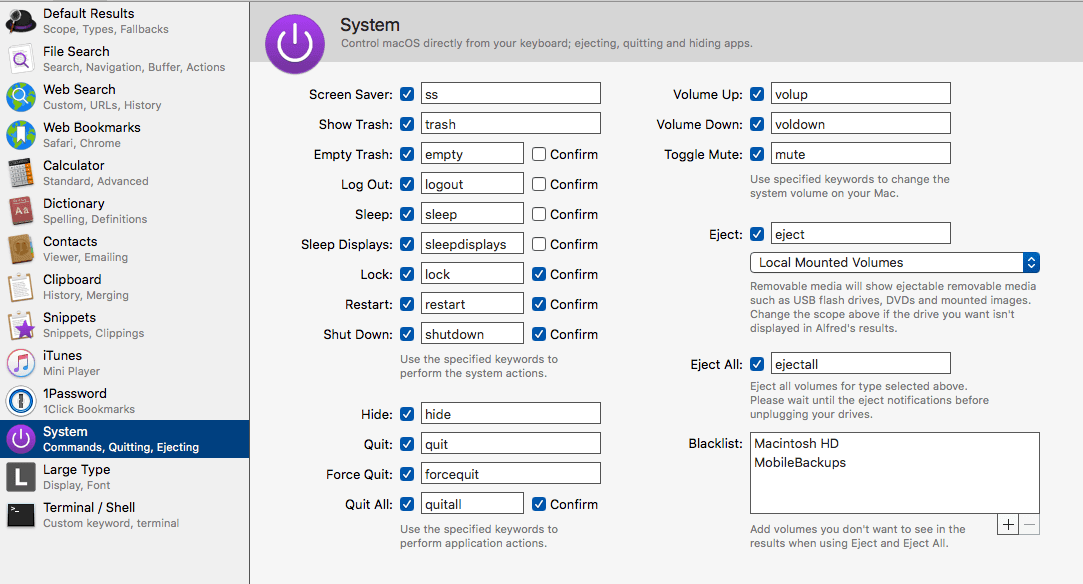 Alfred System Commands
Accessible through the System pane in preferences, this is a collection of useful commands you can use in Alfred to perform system tasks.
All of these can have assigned keywords. Pick ones you are going to remember. I use the one for Screen Saver, Empty Trash, Sleep, and Toggle Mute several times a day. The first time you use these commands they might not show up at the top of the list, find it and select it from the list and Alfred learns your preference. Next time, the command shows up at the top of the list.
Clipboard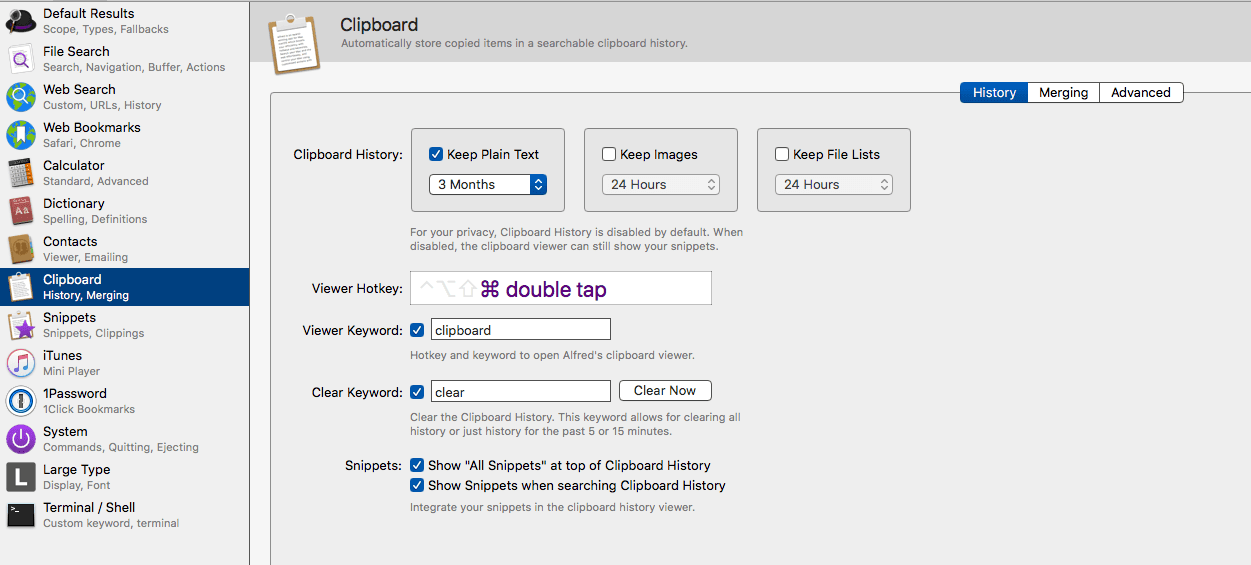 Alfred Clipboard
There are several clipboard apps in the marketplace. I don't need them. Alfred provides me with the clipboard functions I need. I want my clipboard to contain text. I don't need to keep images or files in the clipboard, except for immediate use. It suits me that I can ask Alfred to keep only text items on the persistent clipboard. You can choose to keep your clipboard contents for three months.
You can assign a viewer hotkey, I use double tap on the ⌘ key. I sometimes use the clipboard keyword. You can choose to have snippets show up in the clipboard list. If you have a lot of snippets saved in Alfred and sometimes forget what the contractions are, this comes in handy.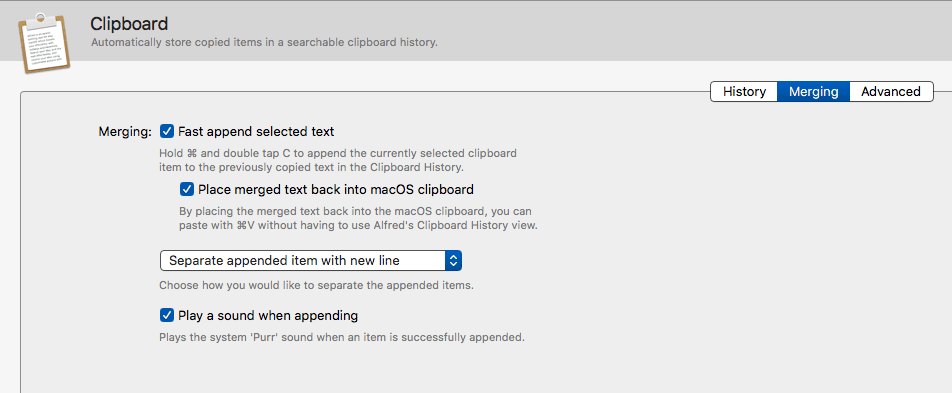 Alfred Clipboard Merge
Clicking the Merging tab in the Clipboard preference pane leads you to the best feature in the Alfred clipboard. The ability to merge items to form one clipboard item. I can copy a bunch of individual items and merge them all into one big list while copying them.
Hold down the ⌘ key and double tap C to merge items together. When you are done with the collecting of items, you paste (⌘V) the merged clipboard into your desired application. This is a great way for me to keep a list of URL's or a list of items I need to remember. Anytime I feel the need to collect information together and keep them corralled into one space, I find myself using the merged clipboard feature in Alfred.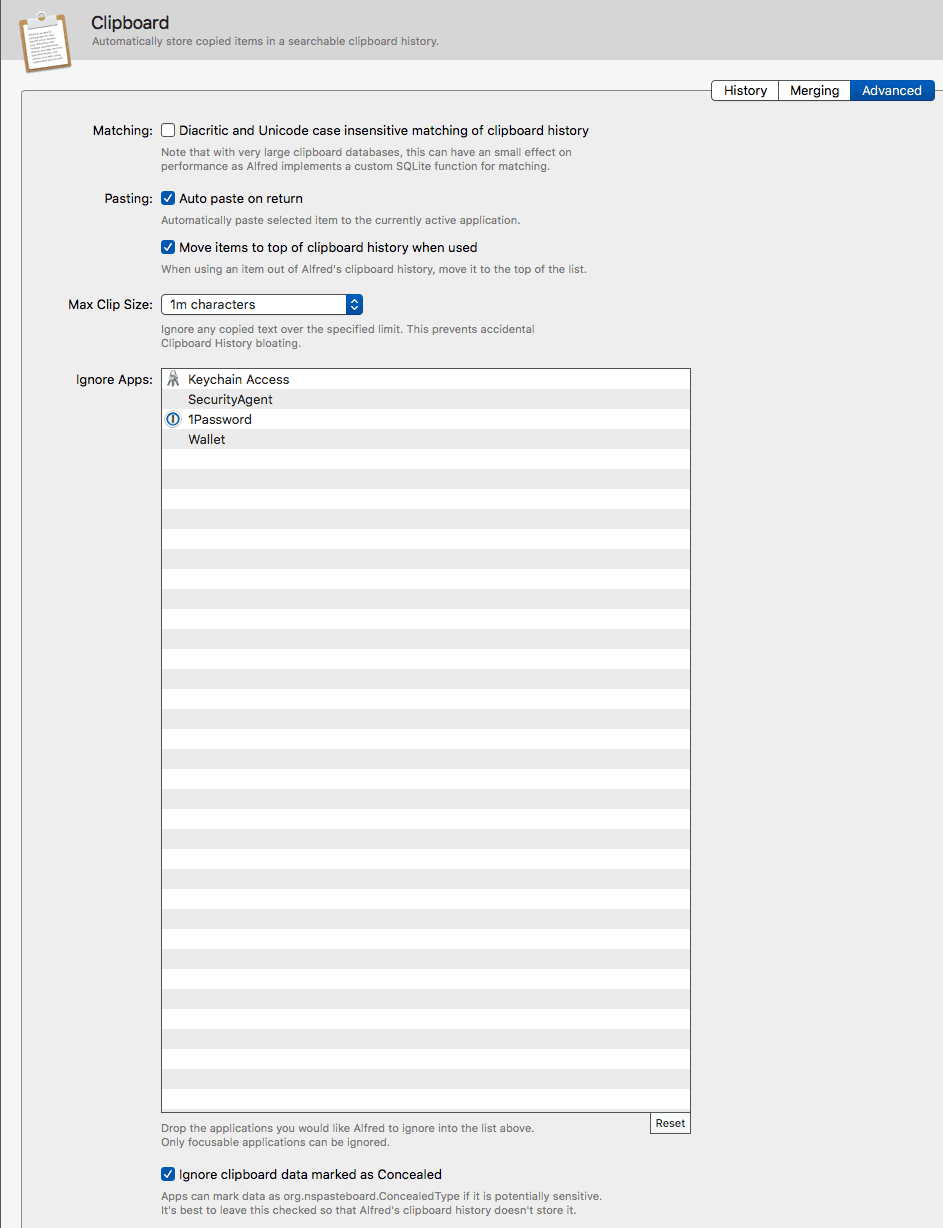 Alfred Clipboard Advanced
You can choose applications you want the Alfred clipboard feature to ignore in the Advanced tab of the Clipboard preference pane. It is a good idea to keep your password manager in this list.
A Couple of Workflows I Find Useful
I am going to highlight two workflows that get a lot of use. I didn't write these. I am grateful to the people who did. They have made my life easier and efficient. Thank you.
Add to Instapaper
Add URLs to Instapaper via Alfred is a workflow which gets a lot of use. It is a simple workflow. When I find a page on the Web that I do not have the time to read but want to get back to at a later stage, I save it to Instapaper by using this Workflow. When I have the time, I go to Instapaper and catch up on my reading.
derbingle is the author of this workflow. Thank you.
App Version

Alfred App Version
Everyday I go to MacUpdate to see what are the new programs which have been released, and which are the programs that have been updated for the Mac. I am not always sure that I have the latest version of the program installed on my Mac. This is not a trivial task. Go to the Applications folder on the hard drive, find the application, Get Info on the Application (⌘I), and check the version number. AppVersion makes it easy. I type av, hit Enter, and then type the name of the Application, and Alfred tells me the version number with the help of the App Version workflow.
Vitor is the creator of this workflow. Thank you Vitor for this and a whole host of other workflows which make my life easier.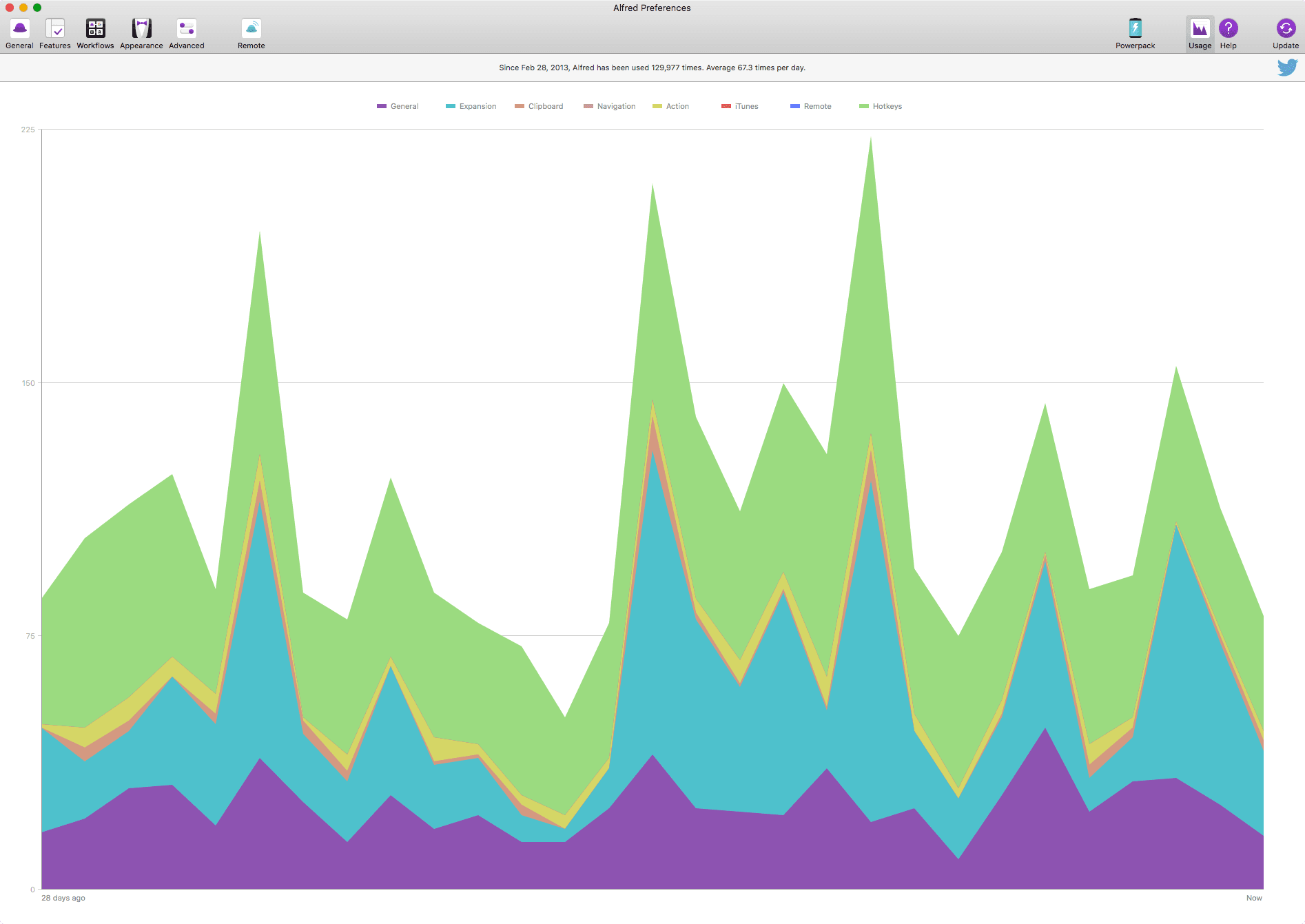 Alfred Usage 2018-06-11
Alfred with Mega Supporter Powerpack is one of those investments I have made which pays off everyday. I can't imagine using a Mac without this application.
macosxguru at the gmail thingie
---
Previous post
James Herriot: The Vet from Darrowby, Yorkshire
All Creatures Great and Small All Creatures Great and Small (All Creatures Great and Small Book 1) by James Herriot: Kindle Store All Things Bright
Next post
Useful Keyboard Commands for macOS
These are the basic keyboard commands that you will use a lot. Action Keyboard Command Switch between Launched Applications ⌘+[tab], hold