May 1, 2022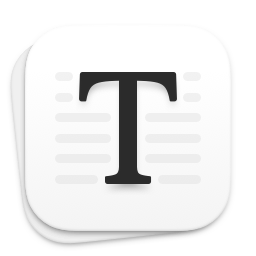 Typora Icon
Typora is Fantastic
Product: Typora — a markdown editor, markdown reader.
Price: $14.99
Typora is Markdown focused text editor. It has emerged from a long beta period. I have been waiting to write about it for a while.
Typora does Electron Right
Typora is an Electron app. The criticism against Electron apps on macOS is that they don't support standard macOS features like:
Services.
"Lazy" typing. Two spaces don't turn into a period. The first letter of a sentence is not capitalized even though the system defaults specify this.
Version control and revert to previous version.
Typora supports Services, version control, and "lazy" typing. I was not expecting this, Typora surprised me.
Supporting macOS features makes Typora a better experience for me. It is a cross-platform application, but it is a well-behaved macOS application and that is fantastic.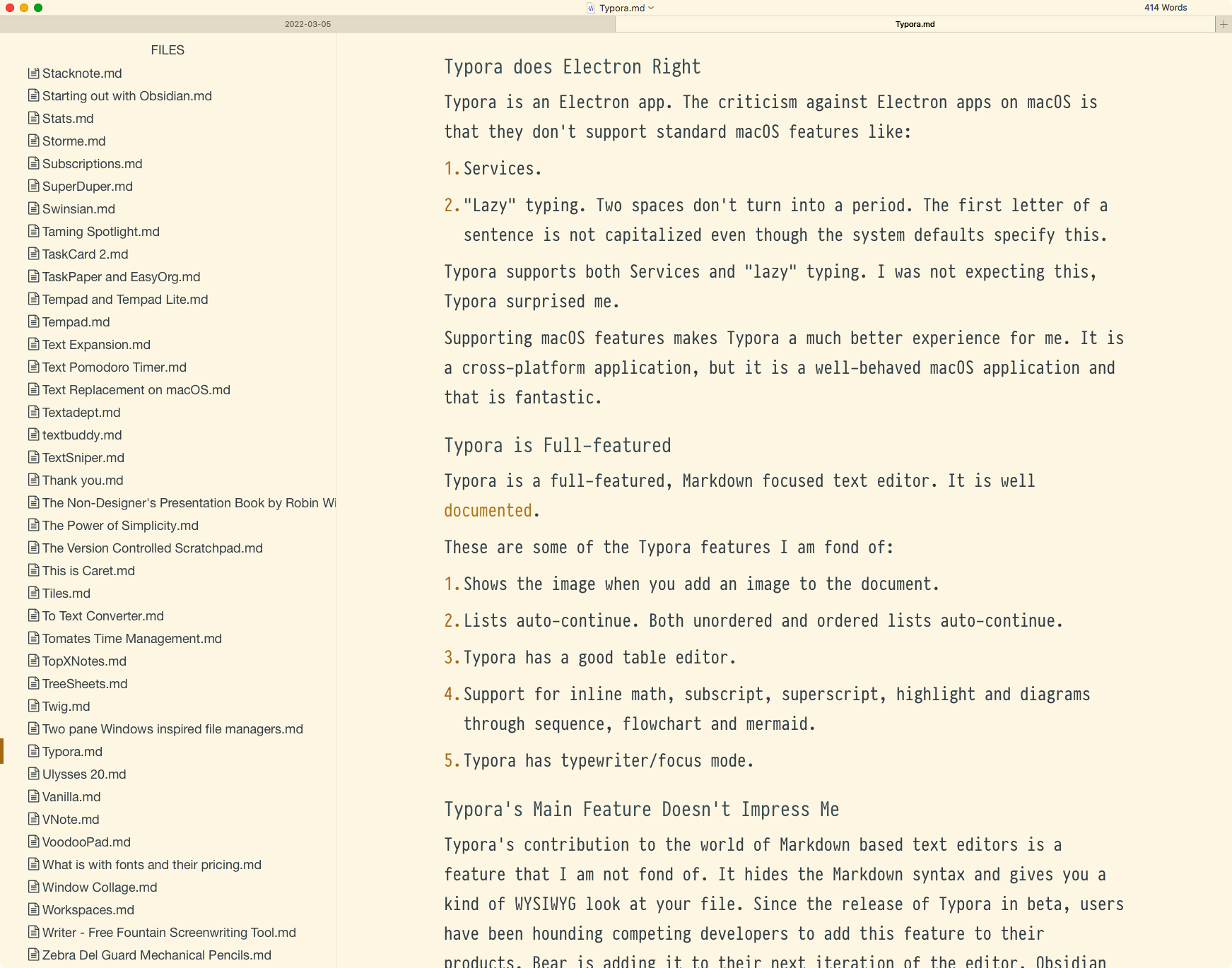 Typora screen
Typora is Full-featured
Typora is a full-featured, Markdown focused text editor. It is well documented.
These are some of the Typora features I am fond of:
Shows the image when you add an image to the document.
Lists auto-continue. Both unordered and ordered lists auto-continue.
Typora has a good table editor.
Support for inline math, subscript, superscript, highlight and diagrams through sequence, flowchart and mermaid.
Typora has typewriter/focus mode.
The Outline view in the sidebar is useful. Lets you navigate through your document.
You can add Auto-Numbering for Headings through CSS. Auto Numbering for Headings - Typora Support.
Typora lets you add your own CSS to the themes. Add Custom CSS - Typora Support.
Typora is integrated with the macOS system service of Version Control and Recovery. Version Control and Recovery - Typora Support.
You can maintain task lists in Typora. Task List — Easy Way to Record Todos - Typora Support.
The support for keyboard commands is extensive in Typora. Shortcut Keys - Typora Support.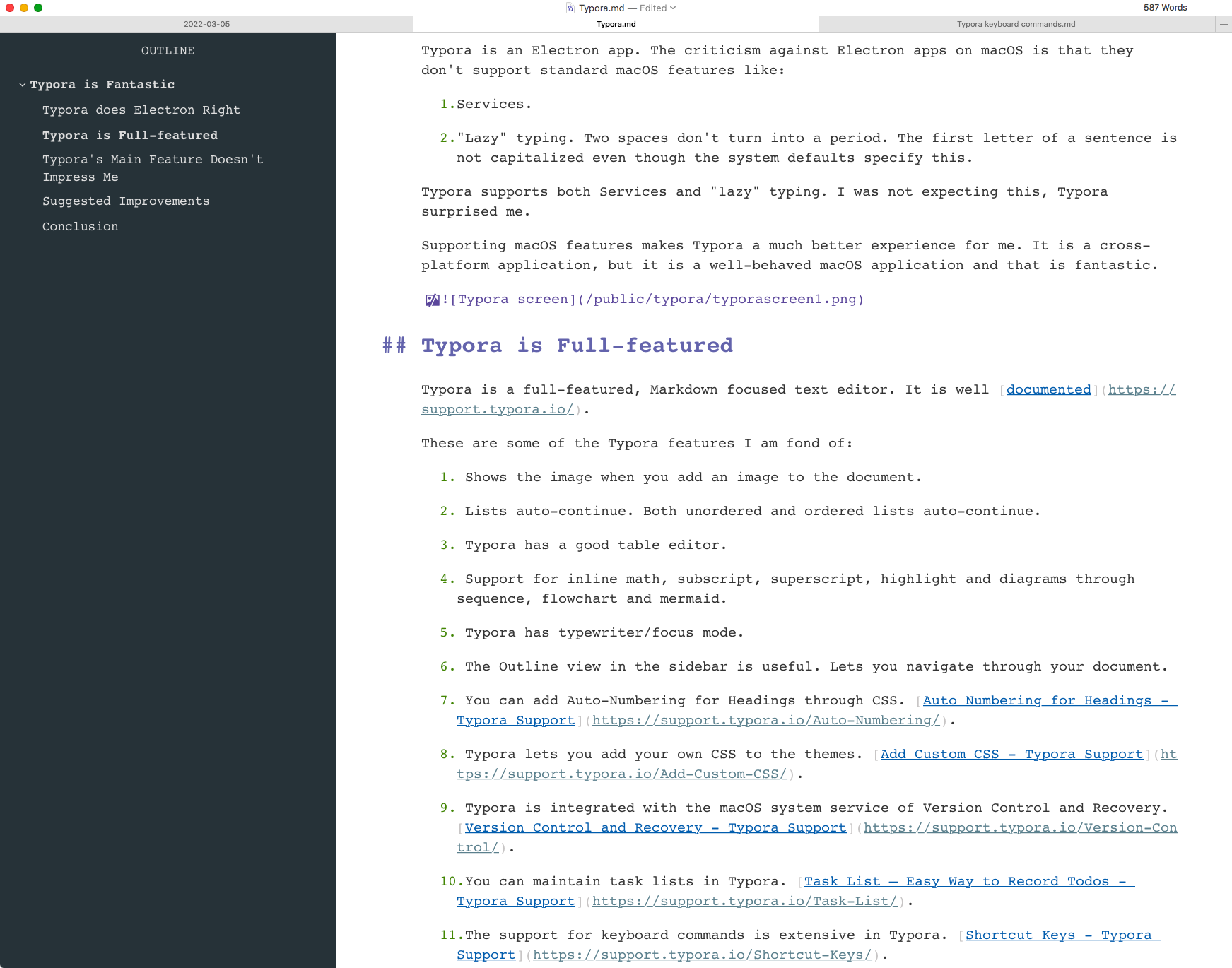 Typora with No Syntax Hiding
Typora's Main Feature Doesn't Impress Me
Typora's contribution to the world of Markdown based text editors is a feature that I despise. It hides the Markdown syntax and gives you a kind of WYSIWYG look at your file. Since the release of Typora in beta, users have been hounding competing developers to add this feature to their products. Bear is adding it to their next iteration of the editor. Obsidian has added the feature.
I hate it. Markdown is by definition a minimal markup. Why do we have to hide it? I don't see the upside. A vocal group of users seem to like this feature and that is one of the defining features of Typora. It is wasted on me.
The theme Monospace gives me the ability to not deal with this abomination and see my Markdown syntax. I am in that theme all the time.
Suggested Improvements
These are some of the improvements which would make Typora better:
The search feature needs work. It is anemic at this point.
Folding of sections would be a definite improvement. Makes it easier to deal with larger documents.
Conclusion
Typora doesn't behave like a typical Electron application. It is a good macOS citizen supporting Services, Version Control, and System Keyboard settings. It deals with Markdown well and has the ability to add features like inline maths, sequences, and diagrams.
This is a well-designed editor. If you are looking for a Markdown based text editor, you cannot go wrong with Typora.
Typora is recommended heartily.
Note: Another review of Typora: Best Markdown editor for distraction-free writing.
---
Previous post
MonsterWriter for Academic Work
Product: MonsterWriter Price: $34.99 App Store Link: MonsterWriter MonsterWriter is an Electron-based writing program geared towards academic
Next post
Links of Note 2022-05-05
Not going to use Grammarly. Michael Tsai - Blog - Is Grammarly a Keylogger? Interesting perspective on Obsidian. Using Obsidian, A Year On – Tara