November 6, 2016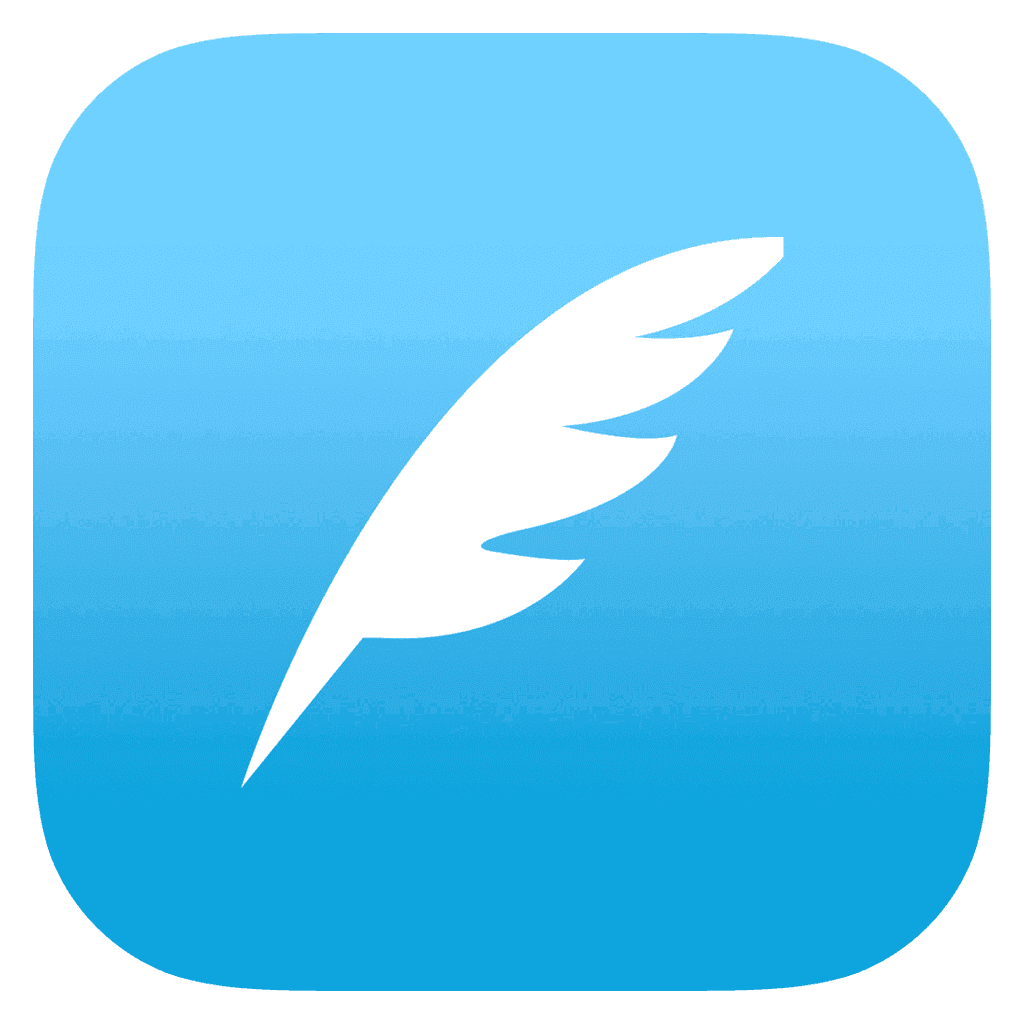 Place To Write
Place to Write is Immersive and Useful
Product (macOS): Place To Write
Price: $5.99
Product (iOS iPad): Place To Write
Price: $0.99 (with in-app purchases for themes ($3.99) and Creative Tools ($2.99))
People who write have different needs when it comes to their tools. George R. R. Martin of "A Game of Thrones" fame writes in Wordstar. Some others prefer Scrivener. There are writers who are happy in Microsoft Word. A new crop of writers have adopted Ulysses as their weapon of choice in the business of cleaving words together.
I write in Sublime Text 3. It is a text editor, designed and used primarily for writing code, but it is what I am comfortable in and through the use of some plugins and snippets have turned into my ideal markdown based writing environment. Sometimes I find myself writing in Ulysses, I love its minimalistic aesthetic. I also use iA Writer in my work. iA Writer helps me in the editing phase.
Writing is hard.
I will rephrase that. Some writing is laughably easy. I write a diary everyday. The only audience for the diary is myself. It is easy to write. There is no associated tension. I talk to myself, free of the need to manage impressions, it flows and it is easy to write.
Writing for the blog is harder. I try to inform, educate, and sometimes entertain my audience. I strive to be clear, concise, engaging and informative. Does not come easily to me. My default state is "grumpy."
Periodically, I write fiction. That, I find is even harder. I keep working at it. Hoping that it will improve over time. But any help I can get in that process is welcome.
"…Place To Write is a tool that helps all kinds of amateur and professional writers to get inspired and focused on their writing, stimulating their creativity and creating a peaceful mind-set, while offering bullet-proof creative writing aids."
This is a tough set of tasks Place To Write has set out to achieve. It has a slew of features designed to achieve its goals. I will break them into what I conceptualize as Executional elements and Process elements. Executional elements are those features involved with the actual task of writing. Process elements are those features which are designed to aid the process of writing or stimulate the thinking behind the writing.
Executional Elements
Themes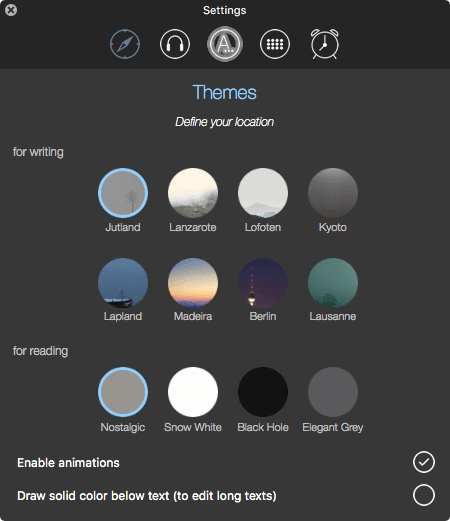 Themes
Place To Write is built around themes. They are different from the usual themes which ship with a text editor. A good word to describe the themes in Place To Write might be environments. They are audio-visual environments. For instance, the Jutland theme is characterized by falling snow, and a sound track which simulates winter and a cold dank wind. There are eight such themes, all of which are different, interesting and immersive.
Background Music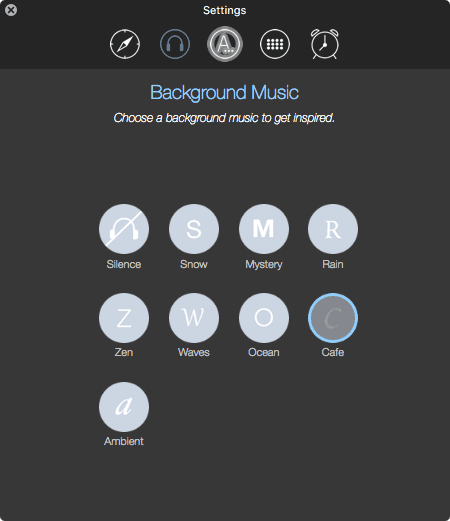 Music
To further consolidate the notion of an environment you get to pick your choice of background music to accompany your writing. There are eight of these to choose from. Thankfully the program also comes with a silent option, you can turn off the background music if you find it intrusive.
Fonts and Options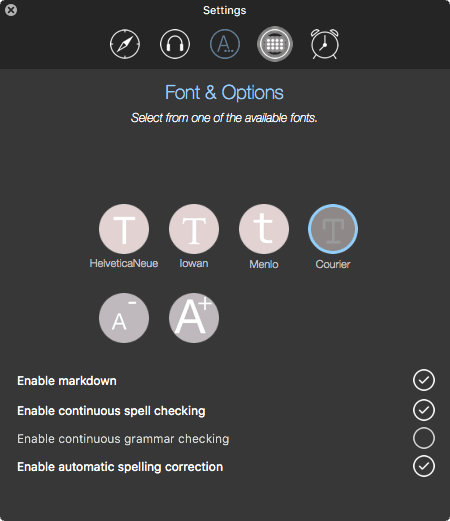 Fonts
The program ships with four fonts: Helvetica Neue, Iowan, Menlo and Courier. You get a choice of writing with markdown or without. There are also the usual spell checking, grammar checking and automatic spell checking options.
Keyboard Sound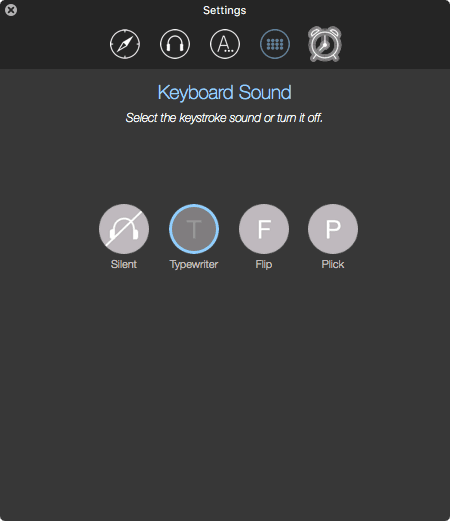 Keyboard Sound
Place To Write gives you the option of choosing a keyboard sound or silence. If you have a mechanical keyboard on which you do your writing, the typewriter sounds are a little much, otherwise you might find this useful to give you a sense of rhythm and flow.
Timer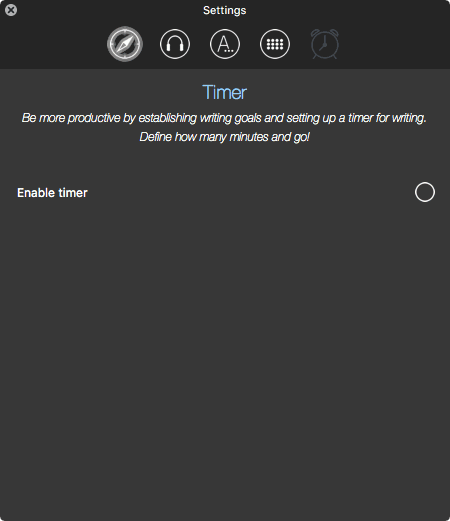 Timer
You can employ a timer to help you in the search for productivity. It is a welcome addition to the tool chest of a writer, and I am happy to see that it is included in the program itself.
Some Other Executional Issues
The application supports markdown but doesn't support keyboard commands to make it easier to write markdown. You have to insert all the code for markdown on your own. I would have preferred keyboard commands to input the usual markdown code for things like bold, italics, headings, and links.
Full screen mode is unusable on an iMac. It might be fine on a laptop but on an iMac the line is across the whole screen and no one can write like that. On the iMac I have to turn off full screen mode and work in a window which definitely lessens the impact of the environment the program is seeking to create. Full screen could be improved by reducing the text entry and display area. Restrict the width to 80 characters or something like that. Might be better to give users a choice.
Process Elements
Place To Write provides help to the creative process. It does that by providing some tools to jog your creative juices. They include: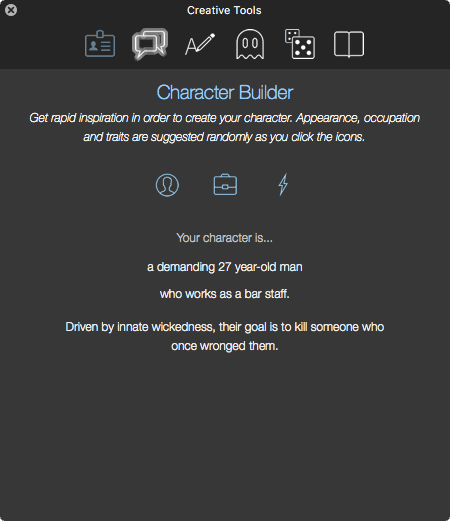 Character Builder
Character Builder: You can create characters based on appearance, occupation and traits.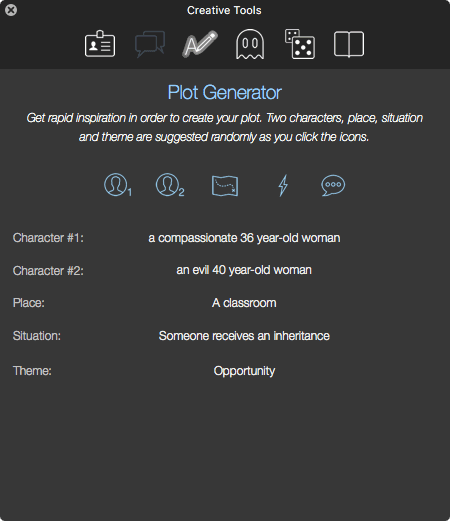 Plot Generator
Plot Generator: Two characters, place, situation and theme are suggested randomly.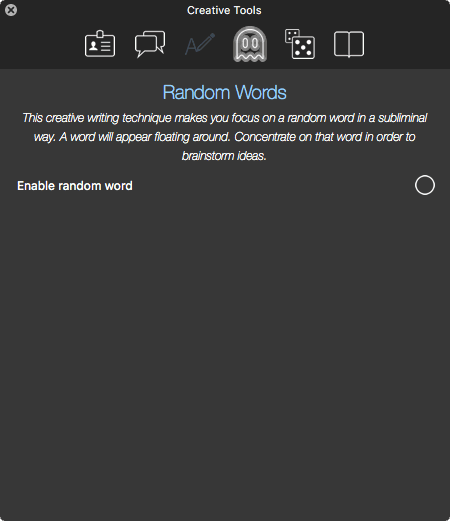 Random Words
Random Words: This is a creative writing technique where you focus on a random word, concentrate on that word to brainstorm issues.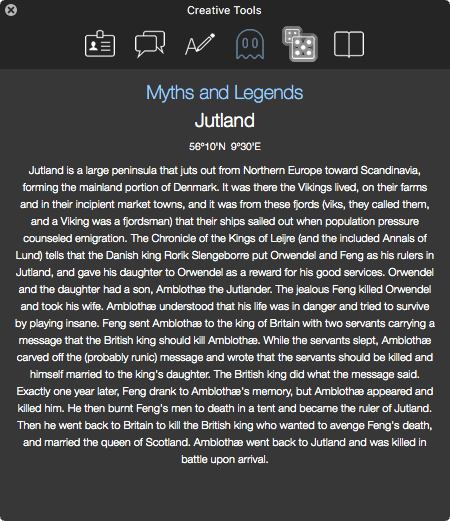 Myths and Legends
Myths and Legends: A story is provided for you to prime your creativity.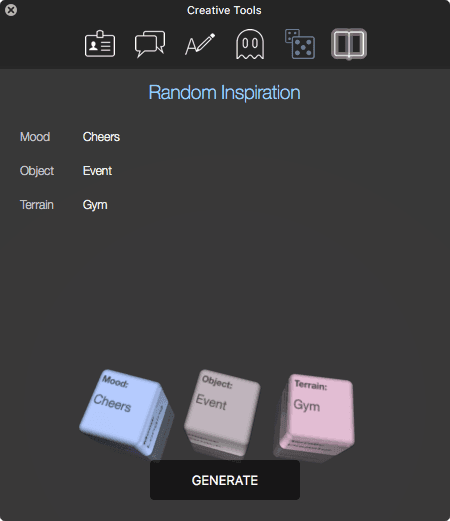 Random Inspiration
Random Inspiration: You can randomly generate mood, object, and terrain prompts to provide you an environment to work in.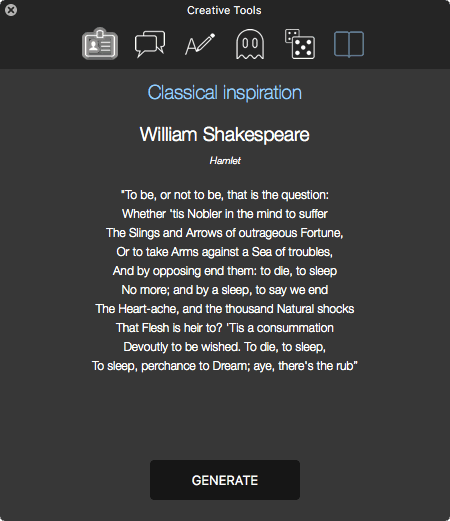 Classical Inspiration
Classical Inspiration: This provides a clip from classic literature to provide inspiration.
These little aids which are aimed towards releasing your creative juices are not an area I am familiar with. I haven't seen any other products which provide these. Place To Write is unique to me. How useful these are is a function of your writing process or requirements. I am happy to have these aids at my disposal and they helps nudge my thinking in a more productive/creative direction.
iPad Version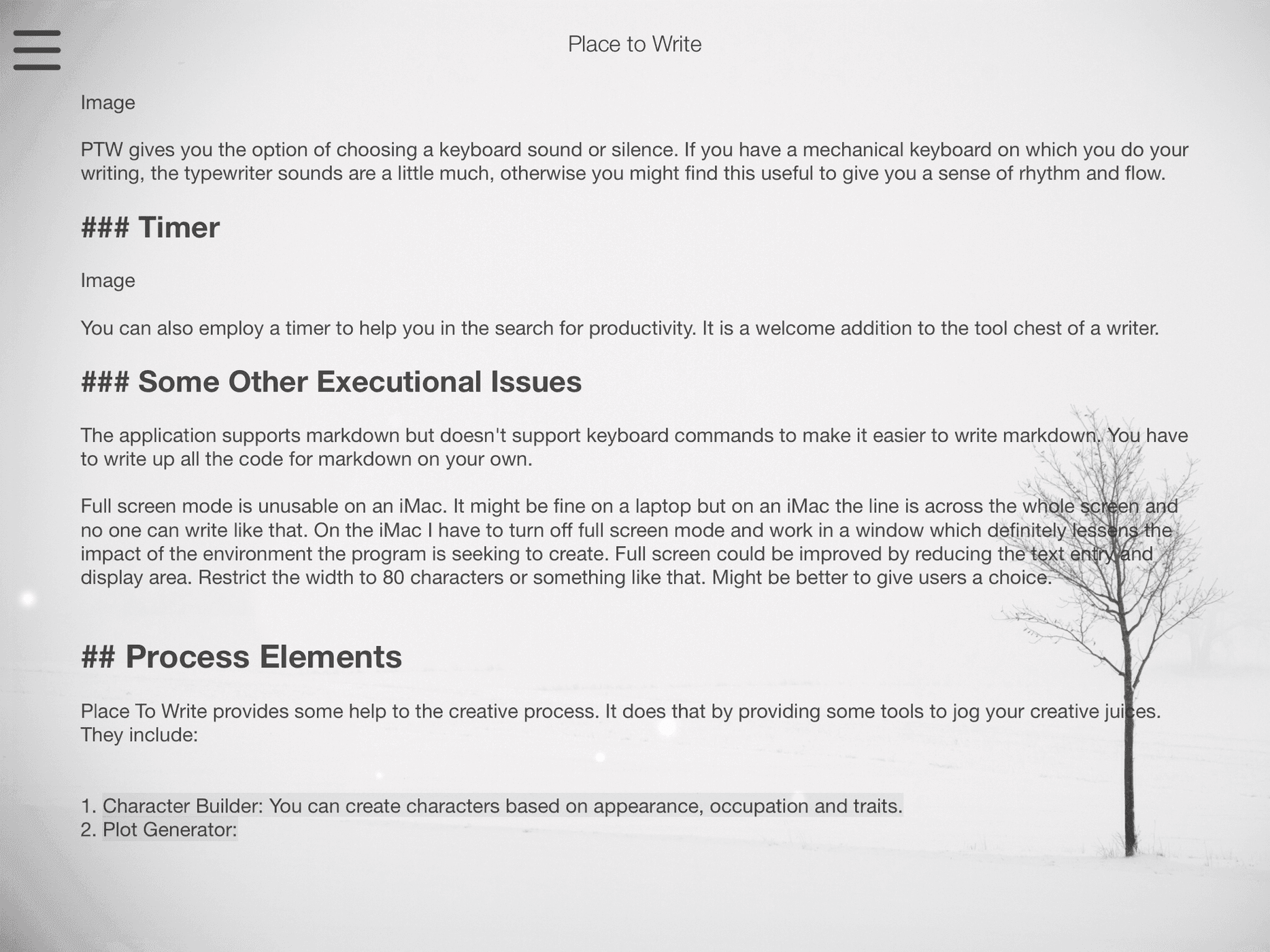 iPad Version of Place To Write
Place To Write has an iPad version and you can sync documents through iCloud. The interface is similar on both platforms and it is helpful to have the ability to take your writing along when you are mobile. The Place To Write iPad version bundles some in-app purchases to make it the complete creative solution.
Conclusion
Place To Write is an interesting product. It provides an immersive writing experience and it is augmented with some creative aids which help you in the process of writing. I like the product and it is a good addition to the creative writing arsenal. I would like the support for markdown to be beefed up. Keyboard commands to aid in the writing of markdown would be most welcome.
I recommend Place To Write heartily for creative writing.
A review copy for both the Mac version and the iPad version was provided to me by the developer for review.
macosxguru at the gmail thingie
---
Previous post
Draft Control Is a Safety Net for My Writing
Draft Control Draft Control on the Mac App Store Price: 39.99 Doesn't happen often. You try out an application and it becomes a crucial component in
Next post
TipTyper: A Quick, Efficient, Free Text Editor
TipTyper TipTyper: Official Web Site TipTyper: From the Mac App Store Price: Free TipTyper is a simple product. A basic text editor. It is not