January 19, 2017
Hemingway Now Writes and Edits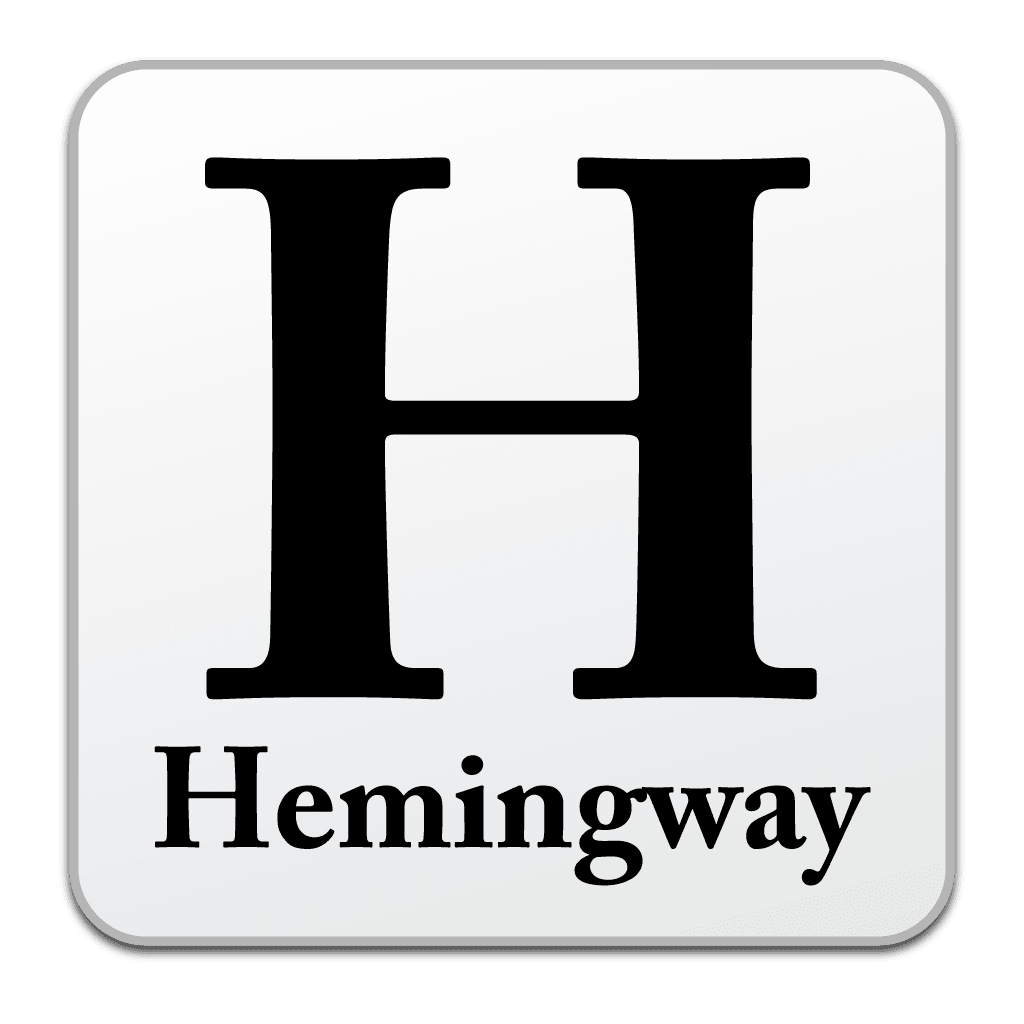 Hemingway icon
Product: The Hemingway Editor Desktop Application
Price: $19.99
I am trying to be a better writer. That quest to be a better writer takes me to the Hemingway Editor application. There is a web app. I prefer the desktop application and it has a new upgrade to version 3.0.
The Hemingway app aims to improve your writing style. It provides a Readability score. It analyses the structure and content of your sentences. It highlights passive voice, the adverbs, and phrases which have simpler alternatives. It also highlights sentences which are hard or very hard to read.
I use it along with iA Writer's Syntax Control when I am editing to improve the flow and readability of my writing.
Write Stage
The Hemingway Desktop Application now has two distinct stages. One is the Write stage. Gives you a minimalistic window to input text. Supports the following format elements:
Headings (three levels)
Bold and italic
Quotes and Links
List both bulleted and numbered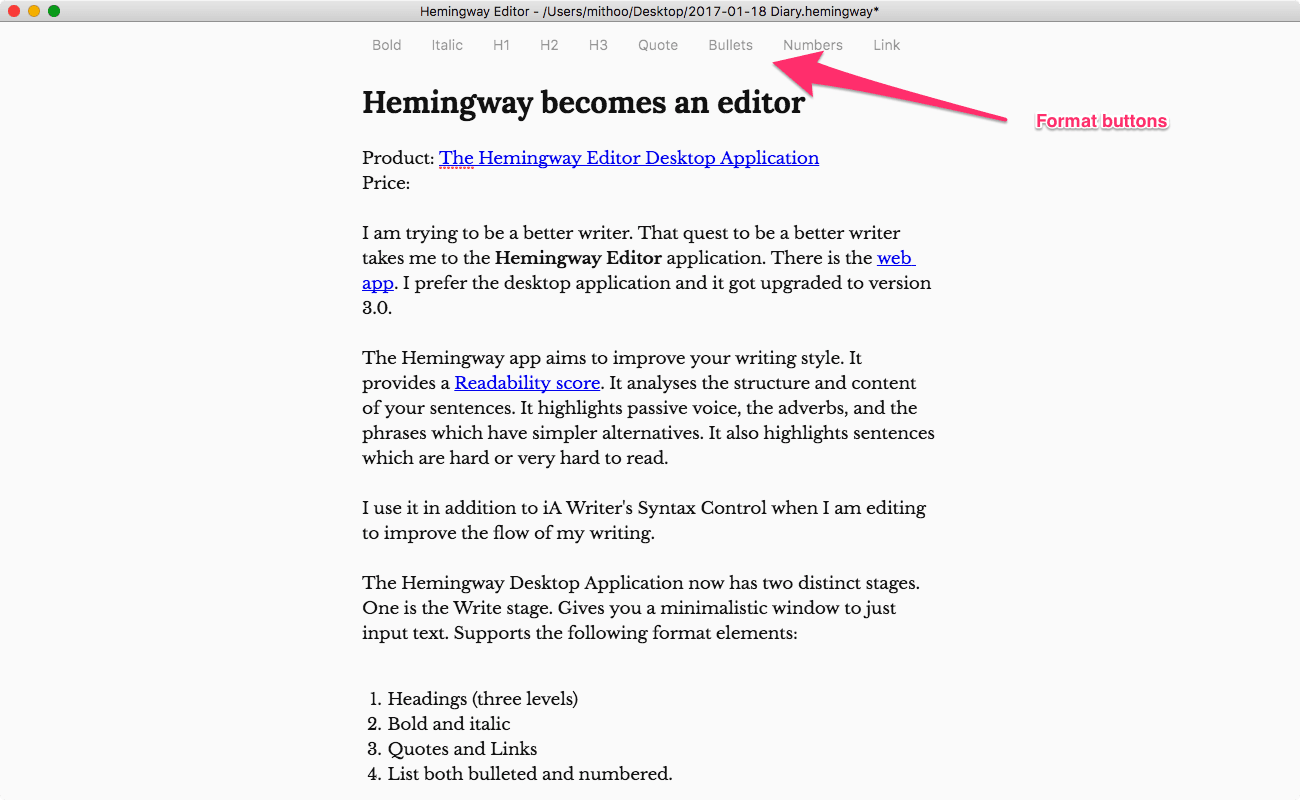 Hemingway Write Stage
I am surprised at the lack of explicit keyboard commands for the formatting commands. There are buttons at the top of the document to help you format your document. I don't mind the buttons, but I want keyboard commands. Some of the keyboard commands do exist but they are not documented.  ⌘B for bold and ⌘I for italic works. ⌘K works for inserting a link. There are no keyboard commands for bulleted or numbered lists. But you can outdent a bulleted paragraph (⌘[) or indent a bulleted paragraph (⌘]). 
There are some keyboard commands to manipulate the environment. ⌘J to toggle between Write and Edit Mode. ⌘L to toggle on/off the right sidebar.
The full screen mode is usable and it is not a bad environment to work in. 
Edit Stage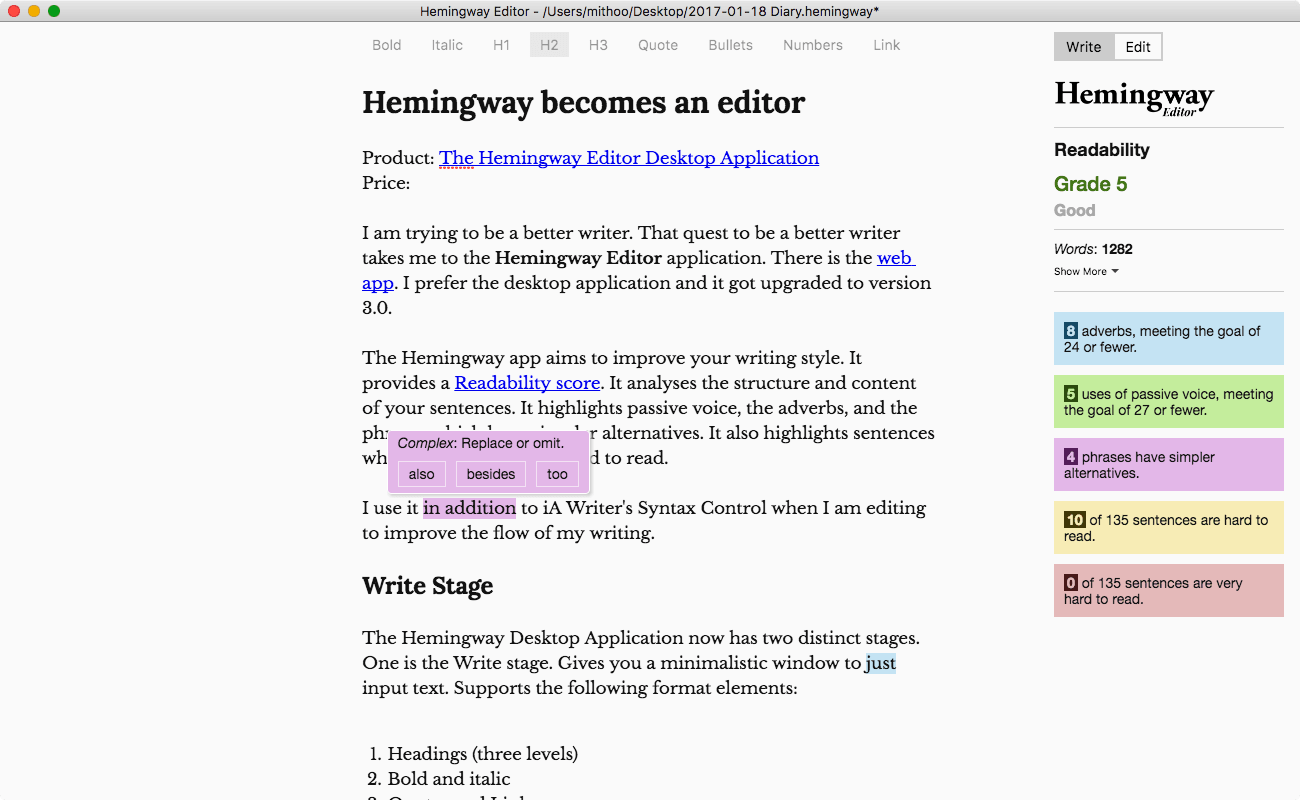 Hemingway Edit Stage
After you finish writing you move on to the Edit stage. The edit stage gives you a nice colorful overview of how your document is doing. It gives you suggestions to improve the style of your content. 
It is a great way of improving the readability of your writing.
General Comments
Hemingway imports plain text files (.txt), Markdown files (.md), Web pages (.html) or Word documents. It lets you export your writing to the same formats. Additionally you can export to pdf files and even Hemingway highlighted pdf files.
This ability to export Hemingway highlighted pdf files makes the product useful to give feedback to your co-writers.
Improvements
These are the specific improvements I would like:
More keyboard commands.
Support Markdown. Let me write markdown tables and footnotes.
Typewriter scrolling in full screen mode.
Conclusions
Hemingway app is another tool in my arsenal. I use it to improve as a writer. It might help you too. I recommend it.
macosxguru at the gmail thingie
---
Previous post
iA Writer Keyboard Commands
icon I didn't find a comprehensive list of keyboard commands for iA Writer. So, I made one. Menu Item Keyboard Command File
Next post
Five Finder Tips
Finder Icon Path Bar In the Finder, you turn on the Path Bar by choosing Show Path Bar from the View menu. Or press, ⌥ + ⌘ + P. Path Bar 2 You get