February 15, 2016
FromScratch, a Place to Doodle With Words.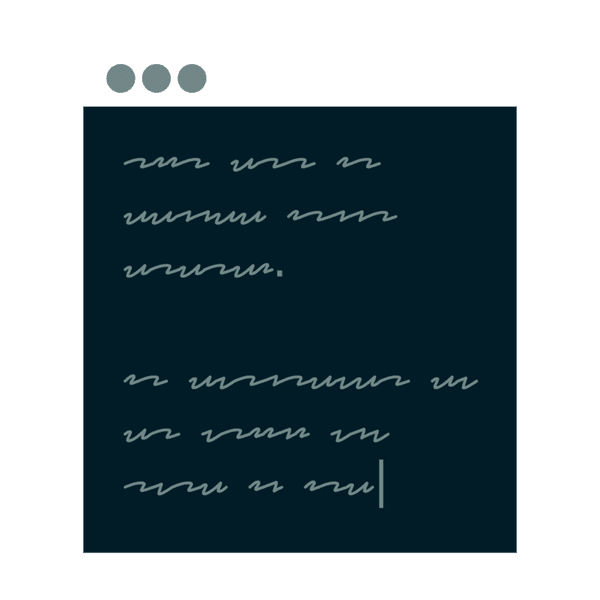 Product: FromScratch
Price: Free
FromScratch is a simple and smart note-taking application.
No User Interface, except the text you type.
Launches instantly.
Tiny memory footprint.
Saves automatically.
Indents automatically.
Replaces common syntax with symbols, such as arrows.
Cross-platform and open source. It is available for Linux, Windows and OS X.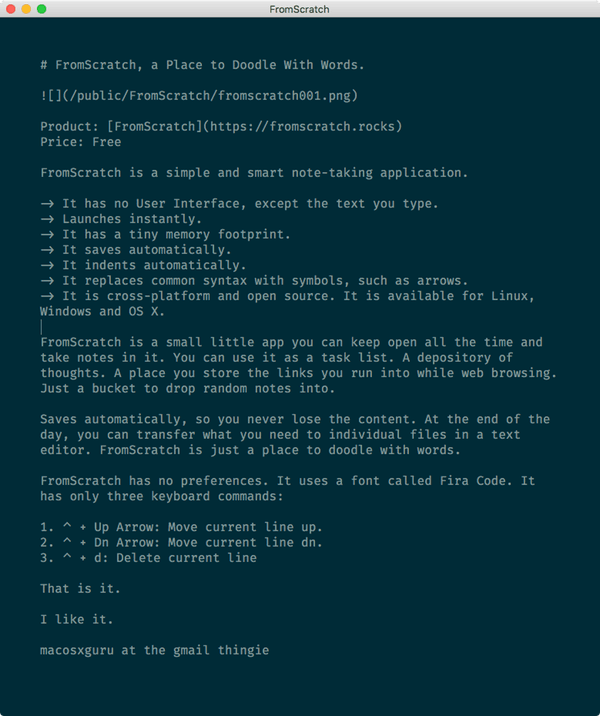 FromScratch is a small little app you can keep open all the time and take notes in. You can use it as a task list. A depository of thoughts. A place you store the links you run into while web browsing. Just a bucket to drop random notes into.
Saves automatically, so you never lose the content. At the end of the day, you can transfer what you need to individual files in a text editor. FromScratch is just a place to doodle with words.
FromScratch has no preferences. It uses a font called Fira Code and it has only three keyboard commands:
⌃ + Up Arrow: Move current line up.
⌃ + Dn Arrow: Move current line dn.
⌃ + d: Delete current line
That is it.
I like it.
macosxguru at the gmail thingie
---
Previous post
Links of Note 2016-02-14
Part 1 of a discussion on San Francisco, the Apple font. Why San Francisco — MartianCraft — The Syndicate — Medium Part 2 of a discussion on San
Next post
LightPaper Update(1.3) Hits the Spot
I wrote about LightPaper here. On the whole, I liked the program but I had some suggestions for improvement: I asked for multiple folder support in