May 17, 2022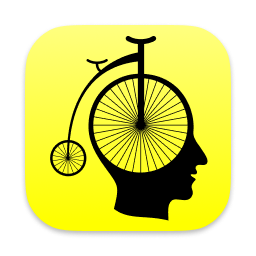 Bike Icon
Bike Outliner - a Bicycle for Your Outlines
Product: Bike Outliner
Price: $19.99
"Bike is a fast and fluid outliner—a simple tool that feels nice." This is how Bike is described by it's developer.
Does Bike live up to that description? The answer is "An emphatic yes."
Bike is the best outliner I have used in a while.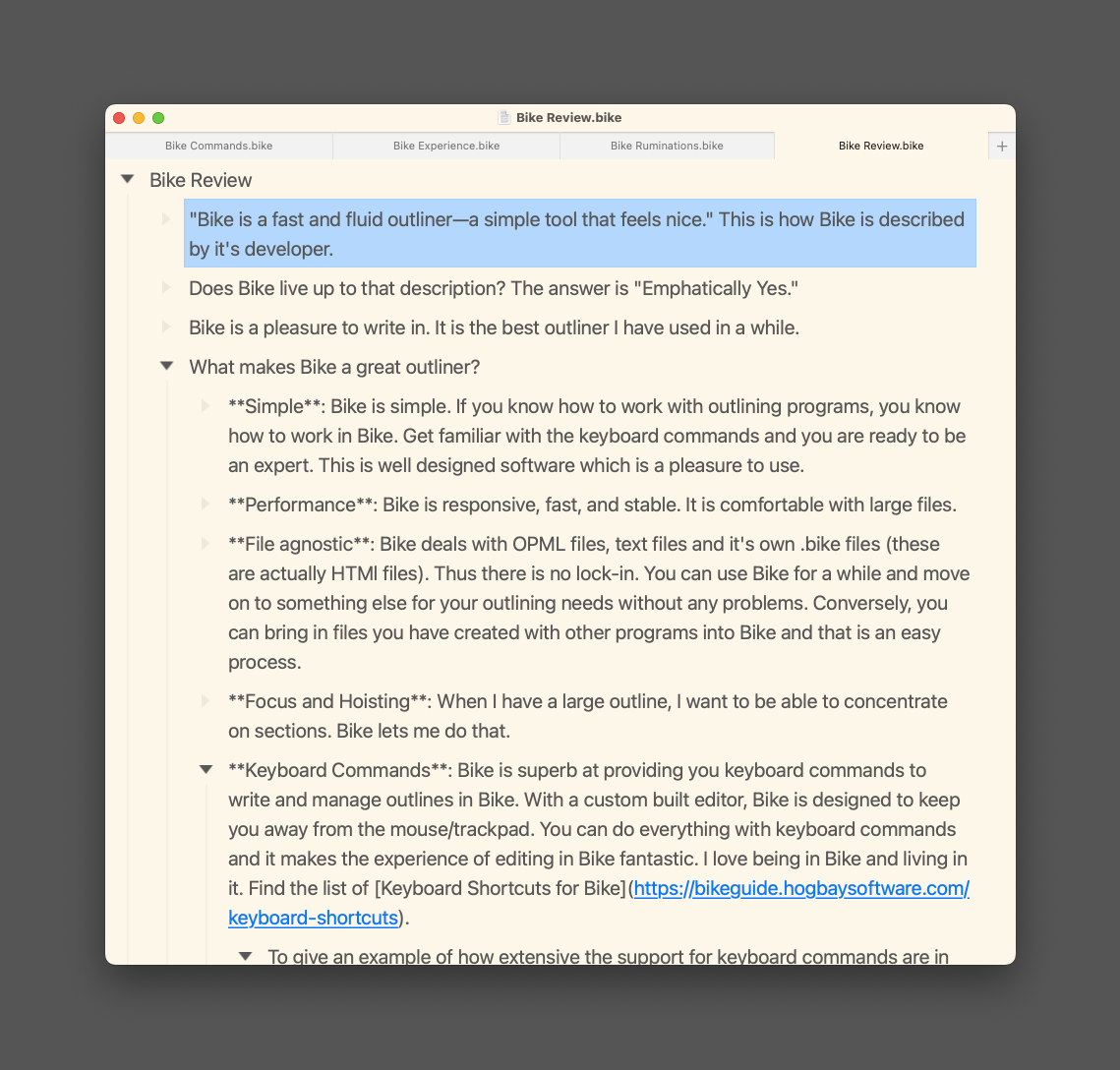 Bike Window
What makes Bike a great outliner?
Simple: Bike is simple. If you know how to work with outlining programs, you know how to work in Bike. Get familiar with the keyboard commands and you are ready to be an expert. This is well designed software which is a pleasure to use.
Performance: Bike is responsive, fast, and stable. It is comfortable with large files.
File agnostic: Bike deals with OPML files, text files and it's own .bike files (these are HTML files). There is no lock-in. You can use Bike for a while and move on to something else for your outlining needs without any problems. Conversely, you can bring in files you have created with other programs into Bike and that is an easy process.
Focus and Hoisting: When I have a large outline, I want to be able to concentrate on sections. Bike lets me do that.
Keyboard Commands: Bike is superb at providing you keyboard commands to write and manage outlines in Bike. With a custom built editor, Bike is designed to keep you from the mouse/trackpad. You can do everything with keyboard commands and it makes the experience of editing in Bike fantastic. I love being in Bike and living in it. Find the list of Keyboard Shortcuts for Bike.

To give an example of how extensive the support for keyboard commands are in Bike.

Indent and Outdent are two things you do a lot when you are in an outline. You can indent and outdent in the following ways:

Tab and Shift-Tab to indent/outdent.
⌃+⌘+Right and ⌃+⌘+Left to indent/outdent.
⌘+[** and **⌘+] to indent/outdent.

I love this program.

Documentation: Bike is extensively documented at Bike - Bike. I love it when a new product takes the trouble of documenting it's features. Makes the act of learning how to use it easier. You get value from your investment if you know how to use the product you paid for. Bike is excellent at that.
Different Modes: Bike has an editing mode which is what is supported by all text editors and outliners. In addition it has an "Outline Editing Mode." While in text editing mode, press the ESC key and you switch to outline editing mode. Outline editing mode is useful when you are re-arranging the items in your outline. Try it. You might love it like I do.
Links: Bike has the ability to link the content of one document to another document. This is not restricted to Bike alone. The Bike link can be activated in other programs and as long as Bike is installed on the machine, it will work. Links can be directed to the path of the document, if that is what you prefer. Read about it Using Links - Bike.
Roadmap
At this stage Bike has an extensive roadmap. Themes and plug-ins are promised. This is a version 1.0 product. I would like some improvements to the basic product and they are listed next.
Improvements
I want to use my own themes and fonts.
Full screen sucks. I want the editing window in full screen to be smaller than the whole screen of the computer.
Typewriter Scrolling. I don't want to look at the bottom of the screen when I am writing.
A Couple of Issues I Want to Address
Questions About the Future of Bike
A comment from the Outliner software forum: Outliner Software: New app, Bike
Ah! Jesse Grosjean does it again… The guy who created and killed Mori, Plaintext, Folding Text, Taskpaper for IOS, SimpleText, QuickCursor. I have lost count of how many apps he created and dumped (along with his customers). I won't be fooled this time.
There is consensus amongst the participants of this forum. I know all those products. I paid for all of them, except Mori. I also know that Jesse Grosjean is a developer who keeps pushing the boundaries of what is possible in plain text files. TaskPaper is a fantastic product which has given me continuous service for almost a decade. Folding Text, an experiment, is working on the latest OS. I respect Jesse as a developer. And Bike is bringing me joy.
Yes there is a promised roadmap and no one knows whether it can be delivered. Bike, as is, at version 1.0, I am going to use extensively.
Bike Is Not TaskPaper 4
Jesse explains that in How does Bike relate to TaskPaper?
Recommendation
Adopting Bike into my workflow is a no-brainer for me.
I recommend it heartily.
macosxguru at the gmail thingie.
Note: The developer provided a license code for beta-testers of which I was one.
Update: Bike got updated to include the ability to use your own fonts. Yippee!!! Update 2: Changed name of product to Bike Outliner.
---
Previous post
Links of Note 2022-05-05
Not going to use Grammarly. Michael Tsai - Blog - Is Grammarly a Keylogger? Interesting perspective on Obsidian. Using Obsidian, A Year On – Tara
Next post
QB 007: Back Tap on the iPhone
An iPhone feature. I didn't know this one. Open Settings>Accessibility>Touch and locate Back Tap. Back Tap lets you set a shortcut to an app or a