July 25, 2016
Alfred Workflow 01 - Caffeinate Control
Periodically I want to highlight Alfred workflows which I find useful. This is the first of the series.
If you need a refresher on Alfred, you can read Tutorial: Alfred, the Powerpack, Packal.org, and Launching Applications - iPadpedia.
No. You cannot go to sleep.

Caffeinate Control Icon
The workflow I want to highlight is called Caffeinate Control | Packal. You can also read about it at Caffeinate Control v 3 Released - Share your Workflows - Alfred App Community Forum. It is written by Shawn Rice, who is an absolute hero when it comes to Alfred workflows.
Caffeinate Control keeps your system awake. It uses a built-in system function to achieve this, so you don't need any third party application.
Download the workflow from the Caffeinate Control | Packal site. Double-click on it to install it in Alfred.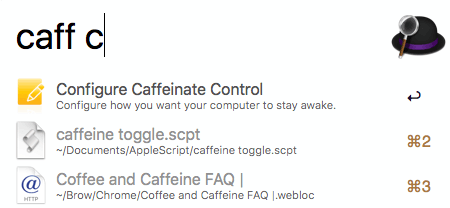 Caffeinate Control
Activate Alfred and type "caff configure" or "caff c" to configure Alfred.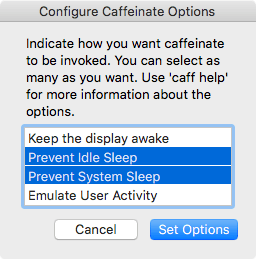 Caffeinate Control Configuration
You can ⌘+click the options to choose the ones you want. The default setting is Prevent System Sleep, which has the added advantage of letting the display turn off. You can choose whatever combination you prefer, and you can change that multiple times depending on your needs.
The next step is to activate Caffeinate Control.
You can hit ⌘+spacebar to invoke Alfred. Type the Caffeinate Control command you want to use and hit enter.
Example commands are:
"caff e" enables caffeinate indefinitely
"caff d" disables caffeinate
"caff 15 2" enables caffeinate for 15 hours and 2 minutes
"caff 23" enables caffeinate for 23 minutes
"caff 2h" enables caffeinate for 2 hours
"caff configure" or "caff c" opens the configuration dialog
"caff help" opens the help dialog.
When you activate Caffeinate Control to keep the system awake, it is followed by a notification message telling you the length of time that your system is going to be awake.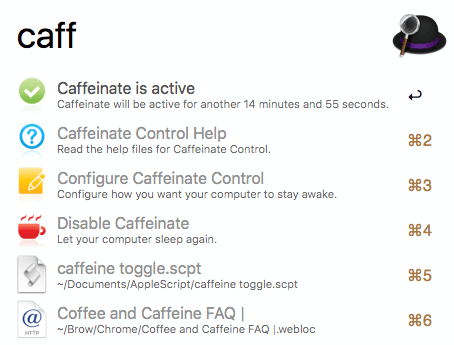 Caffeinate Control Status
At any point after, if you type "caff" in Alfred, it will inform you of the state of Caffeinate Control.
If you want to turn off Caffeinate Control, just type "caff d" in Alfred.
I use this workflow multiple times a day. My thanks to Shawn Rice for creating this.
Update: Tried to improve the writing.
macosxguru at the gmail thingie
---
Previous post
iA Writer and Not Ulysses for Markdown
iA Writer Product: iA Writer Price: $8.99 Product: Ulysses Price: $44.99 For my markdown based writing, I have switched from Ulysses to iA Writer. I
Next post
Convert PDF's to Word
Product: PDF OCR Online Converter | Investintech.com Price: Free I was alerted to this tool by the developer. If you have PDF files which you need