January 7, 2016
UNU Enerpak Micro Battery Brings the Charge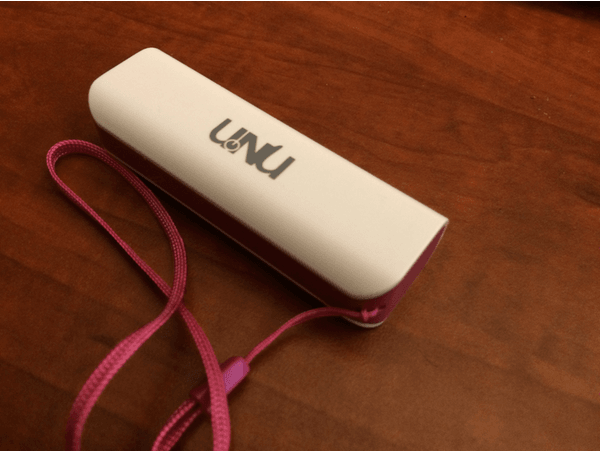 Enerpak
Product: Amazon.com: UNU Enerpak Micro Battery - Retail Packaging - White/Purple [a.k.a Extended Power Charging Cable Case Car Charger]: Cell Phones & Accessories
Price: $19.99
The UNU Enerpak Micro Battery is a small power pack for your digital devices. The small size makes it convenient to carry. It packs a 2800mAh battery which is good enough for a whole day of iPhone use.
Unu has taken care of little details. You get a USB to mini-USB cable which matches the color of the battery pack. They are not shipping with the standard ubiquitous black cable. I appreciate the attention to detail. The product is well designed. There is no on/off switch so you can't turn it on without meaning to. You hook it up to an outlet to charge and a little light comes on and shows the charge happening. When it is charged, the color on the light changes. You disconnect it and it is ready to use. Using it is easy. For the iPhone, I connect the USB to Lightning cable to the battery pack and the iPhone, the light comes on to show the process of charging. After charging, disconnect and you are ready to go. Unu says the battery can be recharged 500 times.
Battery packs are a reasonably low-tech item and it is a very competitive product category. I have tried a few of them and the Unu product is competitive in that field. It is reliable, it works, it is pretty, and it is priced competitively. What else do you want?
I recommend this product without any reservations.
I received this product in exchange for an honest and unbiased review.
macosxguru at the gmail thingie
---
Previous post
2015 The Yearly Roundup
El Capitan happened. The new version of the OS fixed a lot of outstanding bugs on the OS for me. I am happy with the refinements to the OS at this
Next post
Links of Note 2016-01-10
A discussion on icons. Thomas Byttebier - The best icon is a text label Design the perfect favicon. The New Favicon • The Breakroom Great collection