March 3, 2020
Tot Doesn't Work for Me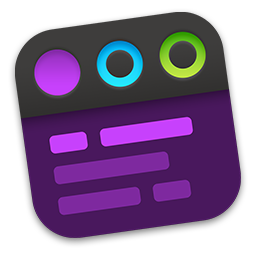 Tot Icon
Product: Tot • Your tiny text companion
Price: Free on macOS; $19.99 on iOS
Tot is a scratchpad with seven pages. It is marketed as "Your tiny text companion."
In Tot you can collect and enter the pieces of text which are important, but ephemeral in nature. Task lists, phone numbers, reminders and pieces of code are all little things which you can hold in Tot. Not going to be useful for long but meaningful in the near future is what Tot is best suited for.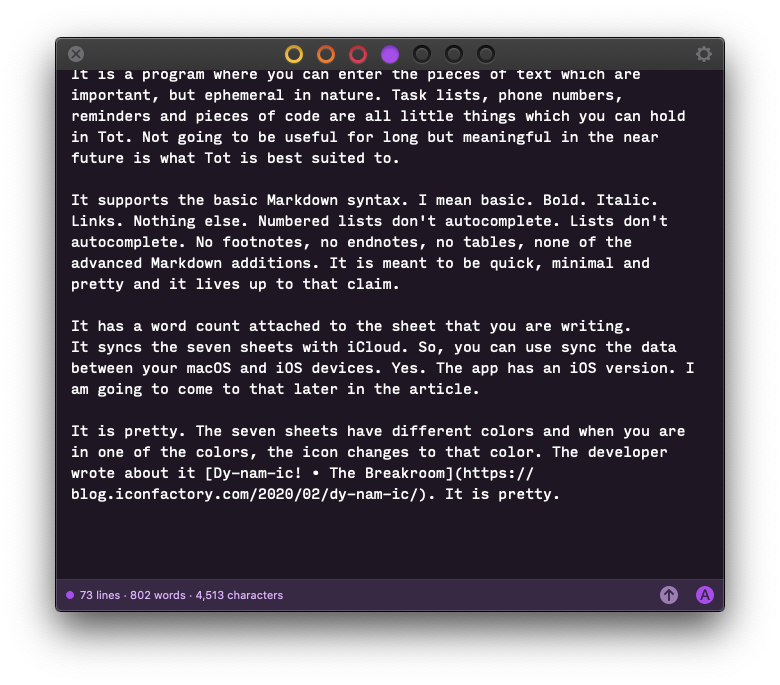 Tot Window
It supports the basic Markdown syntax. I mean basic. Bold. Italic. Links. Nothing else. Numbered lists don't autocomplete. Lists don't autocomplete. No footnotes, no endnotes, no tables, none of the advanced Markdown additions. It is meant to be quick, minimal and pretty and it lives up to that claim.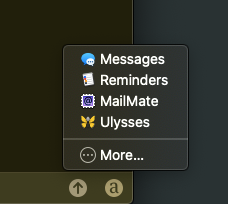 Tot Share
It has a word count attached to the sheet that you are writing. You have the ability to use the macOS share menu to send the text to the destination that you want.
It syncs the seven sheets with iCloud. So, you can access the data between your macOS and iOS devices. Yes. The app has an iOS version. I am going to come to that later in the article.
It is pretty. The seven sheets have different colors and when you are in one of the colors, the icon changes to that color. The developer wrote about it, Dy-nam-ic! • The Breakroom. Tot supports light and dark mode in Catalina and it is beautiful.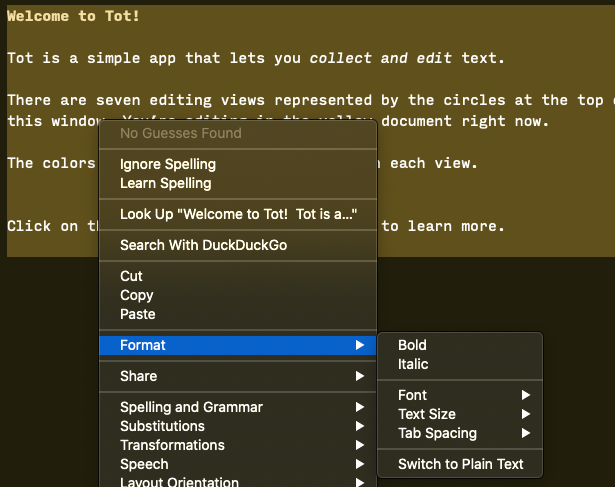 Tot Font change
You can change the font of both the rich text view and the plain text view in Tot. However the commands are situated in a non-standard location. Highlight the text, control click, and you get a drop-down menu. The change font, and font sizes options are in that drop-down menu.
Tot does a great job with handling links. Just drag a link into it, and Tot formats it as a markdown inline link with the page title and URL formatted right. Lots of mainstream Markdown based editors struggle with this. Tot does this great.
It is pretty. Or did I already say that.
For macOS Users
If sync to iOS devices is not important to you, Tot is free. Go grab it. If sync to iOS is important to you, then you might want to read on.
For iOS users
I am hesitant to talk about the price of a product. The reaction to the price is dependent on your conception of value. Our individual conceptions of value are different and thus I shy away from this discussion.
If you like Iconfactory Apps, and want to support them, pay the $19.99 for the iOS version and feel happy about it. I will point out the following:
The need is for a quick note-taker. There are a ton of programs on the iOS which will let you take quick notes and have them synced to your other devices through iCloud or Dropbox. Those files are available and editable on macOS through any text editor you choose. I struggle to see the value proposition for Tot.
Conclusion
Tot is well designed and pretty. It is free on macOS. If you see the value proposition, you can adopt the iOS version too. For me, there are better and cheaper alternatives available on iOS. Considering my reluctance to adopt the iOS version, Tot is a no-go for me.
Tot is not recommended.
macosxguru at the gmail thingie.
Reviews Which Are Much More Favorable
Tot Review: Collect and Edit Bits of Text - MacStories
The Iconfactory Tot/Tot Pocket review | Macworld
---
Previous post
Links of Note 2020-01-17
Holi Front and Center is an app by John Siracusa. If you miss the old macOS behavior in Catalina, buy the app. And read about it at, Hypercritical:
Next post
WordCounter Keeps Me on Track
Product: WordCounter for macOS Price: $19.99 (Educational discounts are available) WordCounter is an application for people who write in different