June 27, 2021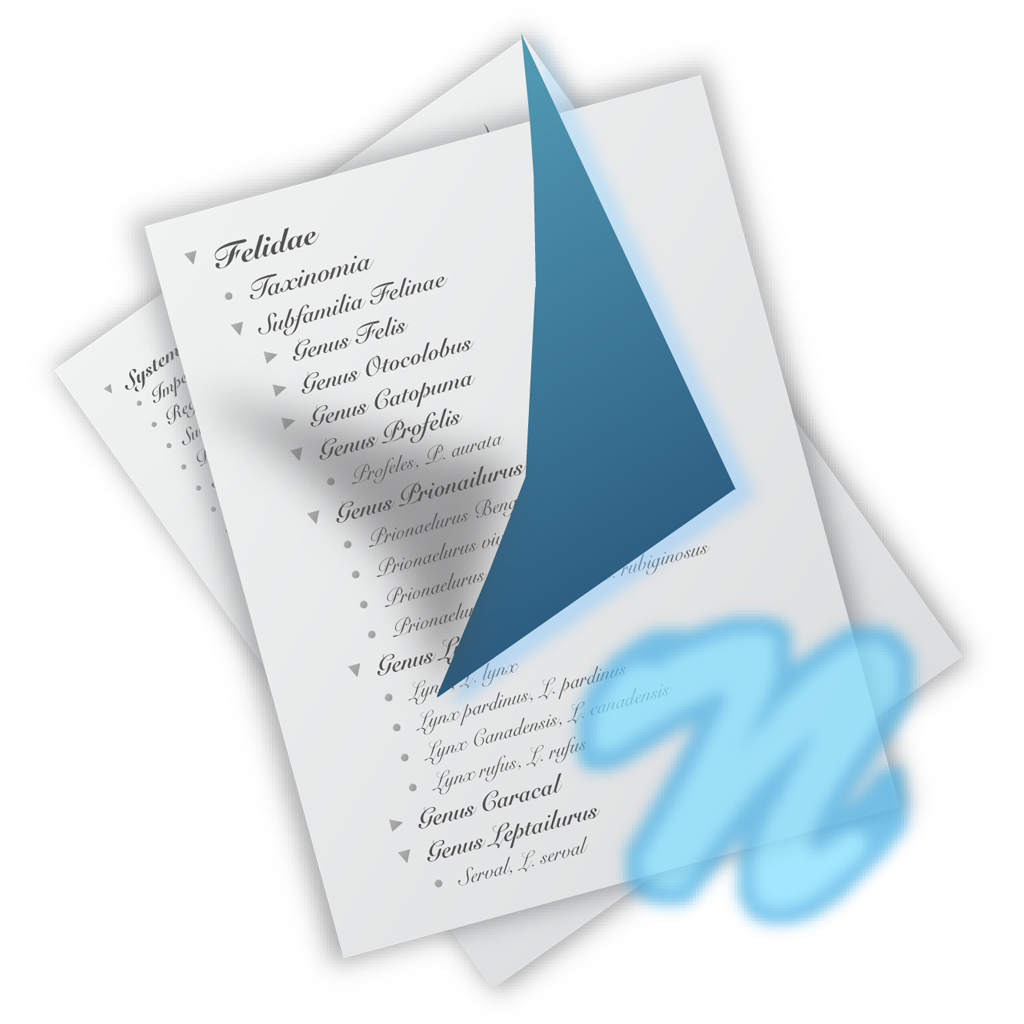 NeO icon
NeO Emerges From the Shadows and Little Outliner Lives in a Tab
Product: d-light ▶ MacOS X ▶ NeO
App Store Price: $6.99
NeO is an outliner that I thought had been abandoned by the developer. I was wrong. It got an update a few weeks ago. It supports both Intel and Apple Silicon.
It has been around for a while. I have been wanting to write about it, but the lack of any developer interest left me unwilling to cover it.
The first thing you notice about NeO is that this is a feature-packed outliner.
This is a list of features:
Capable of importing graphics and multiple fonts for text
Can split editors
Can zoom editors
Multiple columns
Inline comments
Multiple-file find
Highlighting with color labels
Cloning
Hoisting
Labeling
Bookmark
Filtering
Linking among items, fields and texts
Linking to files
Background colors for text, item and document
Cascading style sheet
Named styles
Can export to text, RTF, Microsoft Word, HTML and OPML format files
Can import from text, RTF, Microsoft Word, OPML, MOREª format files
Spotlight support
Quick Look support
Universal Binary
64bit support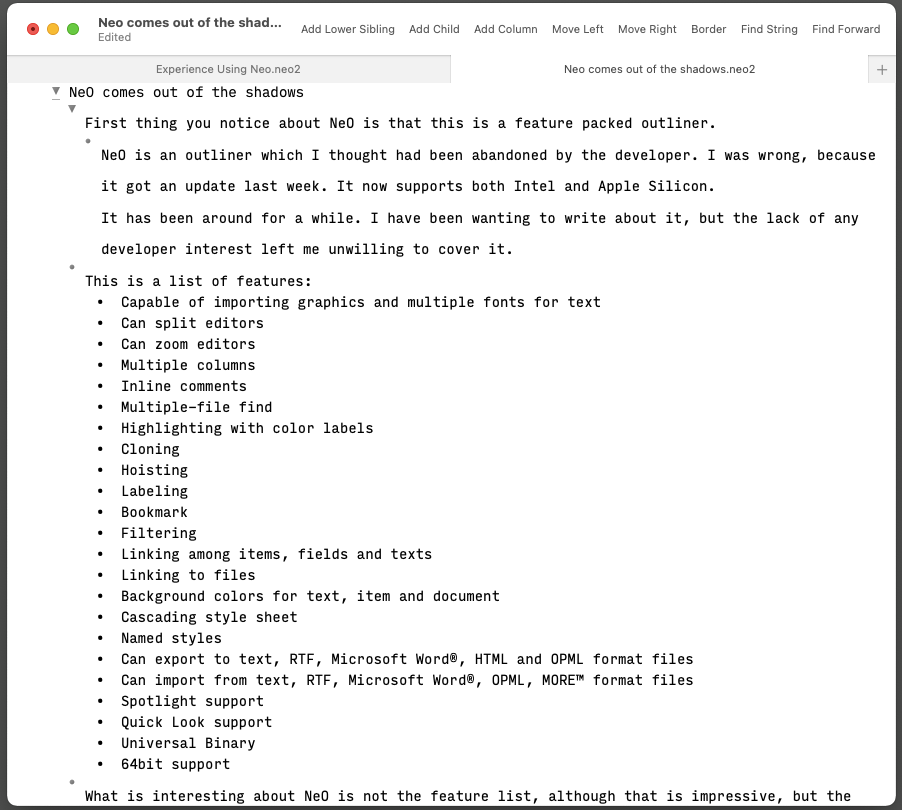 NeO document
NeO can link files but it also links items, fields, and texts within a document. This is the feature set that Roam introduced with much fanfare, but NeO has been doing it for a while. This is truly innovative software, hidden for the most part, from the average Mac user.
I am not going to go into detail about the product. It works. It is full-featured and cheap. Buy it and test it out.
Talking about Little Outliner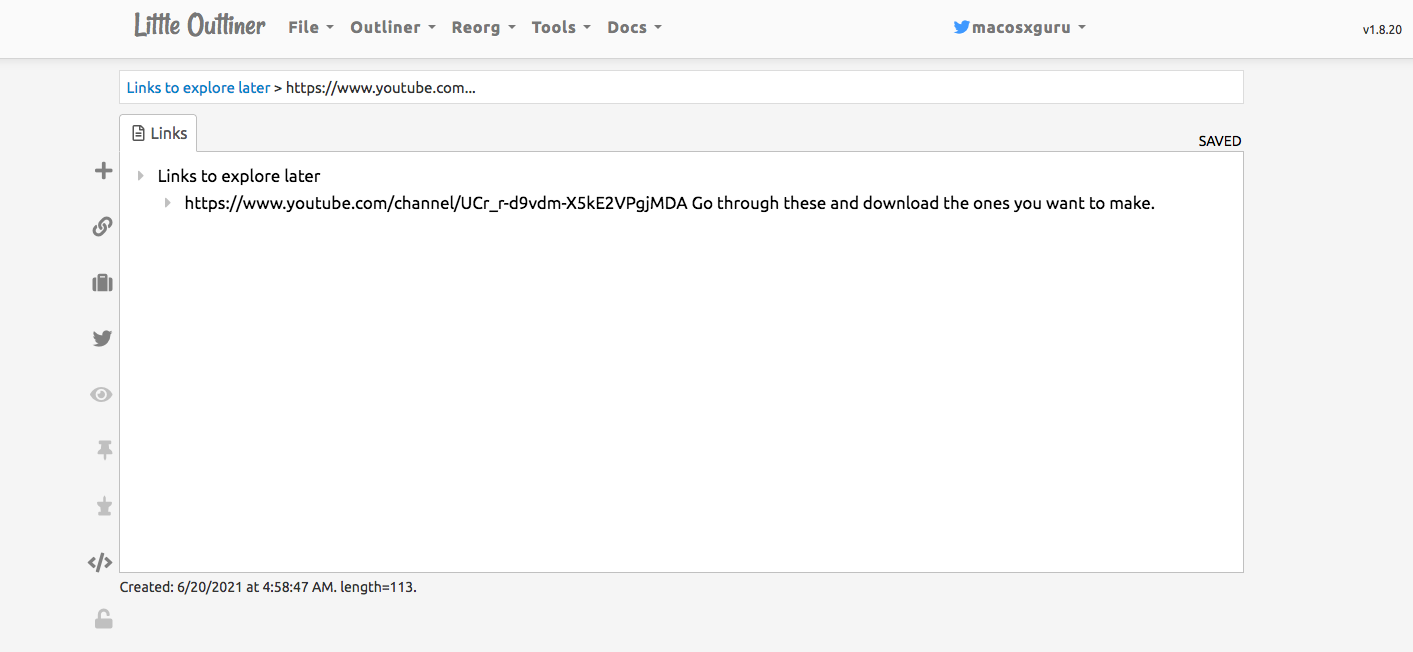 Little Outliner Tab
Lately, I have been talking about outlining programs. I have to mention Little Outliner. This is an outliner based in your browser. It is created by Dave Winer. You use it by logging on to your Twitter account and the files are stored in Dave's server. You can export your outlines to an OPML file. It is an efficient and easy outliner. I use it as a memory aid when I am browsing the Web. It is a free app, which I have active on a tab in the browser.
Be careful not to include confidential information in your outlines in Little Outliner. They are hosted by the developer, and you have no control over the security of the files.
Recommendations
NeO is recommended heartily. It is cheap enough that you can give it a try and if it doesn't work for you, well, that is not a big loss.
Little Outliner is also recommended for an always-on outliner which is surprisingly useful.
macosxguru at the gmail thingie.
---
Previous post
Zavala - A Simple Outliner
Product: Get Organized with Zavala Price: Free Described by the developer as: A good, simple outliner for macOS and iOS. Zavala is a new entrant
Next post
Obsidian Is Going to Eat Everyone's Lunch
Remember how VSCode gobbled up market share? The main players in the text editor space were Sublime Text, Atom, Emacs, and VIM. In macOS, they were