May 29, 2018
iA Writer 5 Manages Files & Folders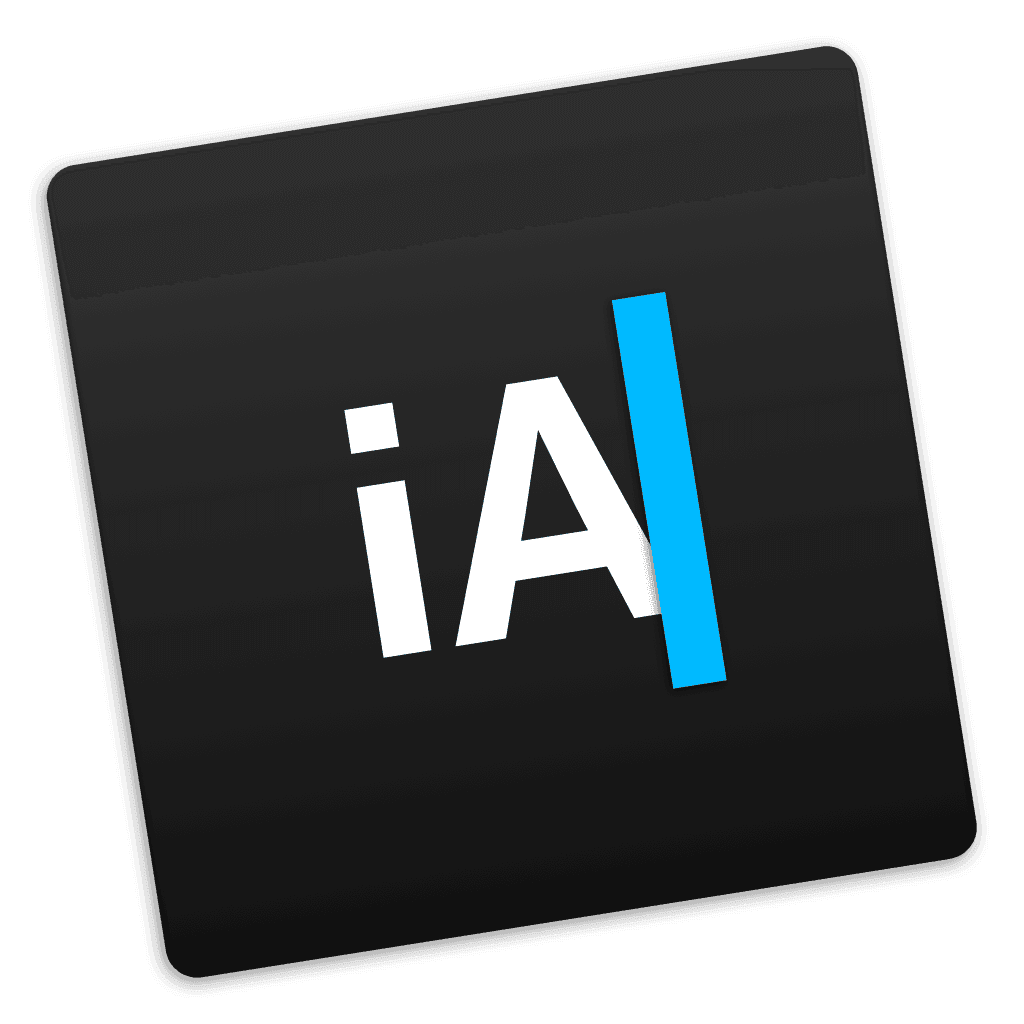 iA Writer Icon
Product: iA Writer: The Focused Writing App for Mac, Windows, Android, iPhone and iPad
App Store: iA Writer
Price: $29.99. Free upgrade from version 4.0
Version 5.0 of iA Writer got released today. I have been testing the beta out for the past couple of months. The application retains its minimalistic ethos and the sparse writing environment enhanced with Focus Mode and Syntax Highlighting. It has added in version 5.0, the ability to manage your files and folders.
Before I go into a discussion of the features, I want to talk about my ideal Markdown based writing environment.
The Ideal Markdown Based Writing Environment
After reading Markdown Editors and Note-Takers | Welcome to Sherwood I have been thinking of my ideal Markdown based writing environment:
Complete support of one of the advanced variants of Markdown. I am not devoted to a particular variant: CommonMark or MultiMarkdown. Support for one of them will do. What does complete support mean? The editor must support at least the following:

Table support.
Footnote support.
Table of Contents
ToDo items

Individual text files. I don't trust proprietary databases. I am always scared when I am writing in Ulysses or Bear. They both feature proprietary databases and have been solid performers. I am still scared. Database corruption and the subsequent loss of all my writing scares me. Individual text files gives me peace of mind and the ability to use any editor I want. I would also like to specify an extension for use with Markdown files. I don't want the extension to be standardized to .txt. In my setup, .txt files are handled by Sublime Text 3 and Markdown files (.md) are handled by my Markdown based text editor.
The ability to manage multiple folders and documents like BBEdit or Sublime Text 3. What that means is that I can have individual folders and sub-folders containing text files strewn across my hard drive and I can manage all of them in the Markdown editor.
Editor makes writing Markdown pleasant. Small touches which make the process of writing Markdown easier. I should be able to do things like copy an URL to the clipboard, highlight a word in the editor and press a keyboard command to turn the word into a link. A good table editor would be a bonus. Autocompletion of lists and completion of brackets are a requirement.
A customizable preview would be nice. Failing that, a connection to a product like Marked 2 is required.
I don't care for the Markdown syntax to disappear. I like how Typora renders Markdown, but it is not essential. I am comfortable with the way Bear shows all the Markdown syntax and don't need it to be hidden. I don't find Markdown syntax distracting. It is minimal in its footprint and I am used to it.
Typewriter scrolling is an essential. I don't want to keep looking at the bottom of the screen when writing.
I want a dark theme. In the evening, I want to be able to turn that on. My eyes hurt from looking at the screen the whole day. I would prefer support of Solarized - Ethan Schoonover but am willing to settle for a simple dark mode.
I want keyboard commands. Keyboard commands should cover both Markdown entry and application specific features. I hate buttons and picking out commands from menus. If I am going to live in a Markdown based text editor it should give me the ability to perform most functions without a trip to the mouse. I desire keyboard commands so that I can keep my fingers on the keyboard and keep writing. I like standardized keyboard commands. Like ⌃⌘F for full screen, ⌃⌘↑ and ⌃⌘↓ to move lines up and down. I don't like it when developers change those standardized keyboard commands. Makes me unlearn something and learn something new and I am not excited by that.
The application needs to support various export formats. The usual ones need to be supported: Markdown, PDF, docx, and html. Text Bundle support would be a bonus.
iA Writer Is Updated to Version 5.0
The folks at iA have been working on iA Writer for a while. They have defined what a minimalistic text editor looks like. Their customized version of Nitti and the blue cursor marching across the screen have become iconic. Along the way iA Writer has acquired syntax highlighting, a second font in DuoSpace, full support of MultiMarkdown, and tabs implemented the macOS way. In recent times, a successful kickstarter campaign to fund a Windows version, and its delivery has been one of the highlights of their progress.
Today they launched iA Writer 5 for the macOS.
In version 5, they tackle something that has been missing in the program. File management.
Most of the minimalistic Markdown based text editors tackle a file at a time. Some of them support the macOS tabs feature which means that you can tackle a few files as long as they are all open. They don't deal with the file hierarchy. They are applications which by design are removed from the file-system. That is not the way my writing life works. I have individual folders representing different facets of my writing. A notes folder for my notes, a journal folder for my daily journal and a blog folder for my blogging, for instance. Some of these folders have sub-folders and my documents are organized within those sub-folders.
I need to be able to interact with all my document folders in my writing software. I need to access documents in each of these folders, search amongst them to locate the file I need, sometimes move files between the folders, and generally do all my file-management chores within the context of my Markdown based text editor. I have been doing this in Sublime Text 3 till iA Writer 5 came along.
iA Writer had introduced the notion of a Library in version 4. But the process of adding files to particular folders in the Library was clunky. The feature was welcome but it was not particularly useful. In version 5, they have revisited the feature and turned it into a powerhouse.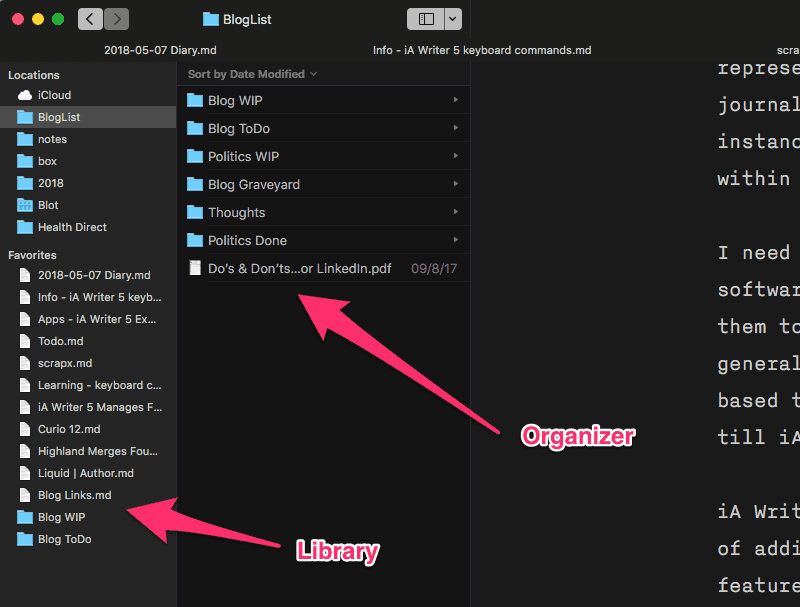 iA Writer Library
They have introduced a Library and within that an Organizer.
The Library
The left most pane is the Library pane. It has two sections:
Locations
Favorites
Locations contain the folders managed by iA Writer 5. There is the iCloud folder which is shared with the iOS version. In addition, Locations can include any folders on your hard drive which you want iA Writer 5 to manage for you.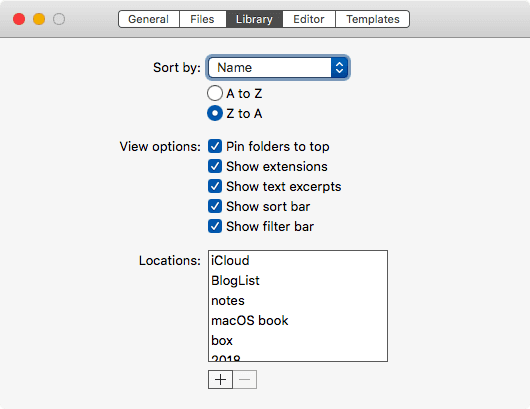 iA Writer Preference>Library
You can add folders to Locations by adding them to the Library pane of preferences, or you can just drag and drop folders from the Finder to the Locations section in the Library. Folders added to iA Writer 5 can have sub-folders within them. When you highlight a folder in the Library, the folders and files contained in it show up in the pane to the right of the Library pane. This is the Organizer pane.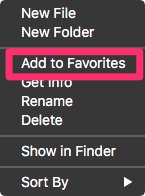 iA Writer Favorites
Favorites are files and folders which you need regular or quick access to. You can designate a file or a folder as a favorite by control clicking on an item in the Organizer and selecting Add to Favorites from the drop-down menu. You can also drag and drop a file/folder from the Organizer to the Favorites section.
You can re-order the files and folders in the Library by simple drag and drop. Put them in any order you prefer. The order of the Favorites section is important. You get to access the files by keyboard commands (⌃+the number of the file/folder in the Favorites section). So the first file can be accessed by ⌃1, the second file by ⌃2 and so on.
This is a crucial feature, well implemented, which makes iA Writer a full-featured application for my Markdown based writing needs.
Assorted Additions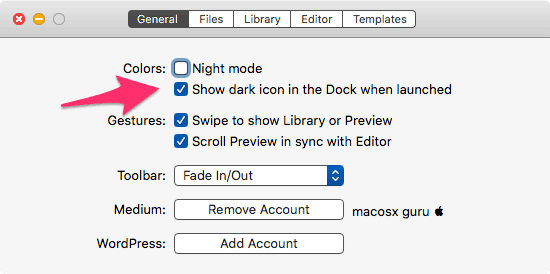 iA Writer Dark Icon
Dark icon: For those of you who prefer the dark over the light icon. You can get the dark icon for iA Writer by clicking on this toggle. I love it. Totally unnecessary but cool.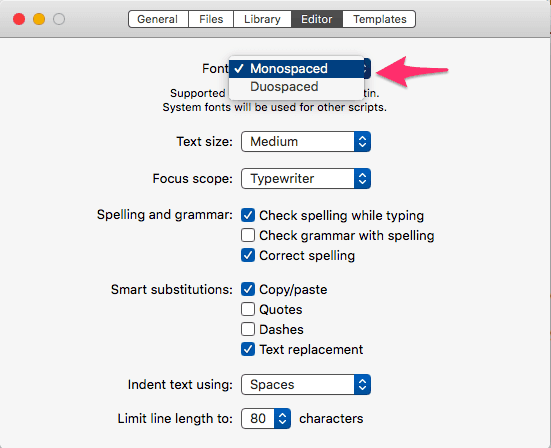 iA Writer Fonts
Two font choices: You can write in the customized Nitti by choosing Monospace or the customized IBM Plex, called iA Writer Duospace. iA Writer has had this for a while, and it is a good addition. I love both of these fonts to write in and they have a unique look which is synonymous with iA Writer.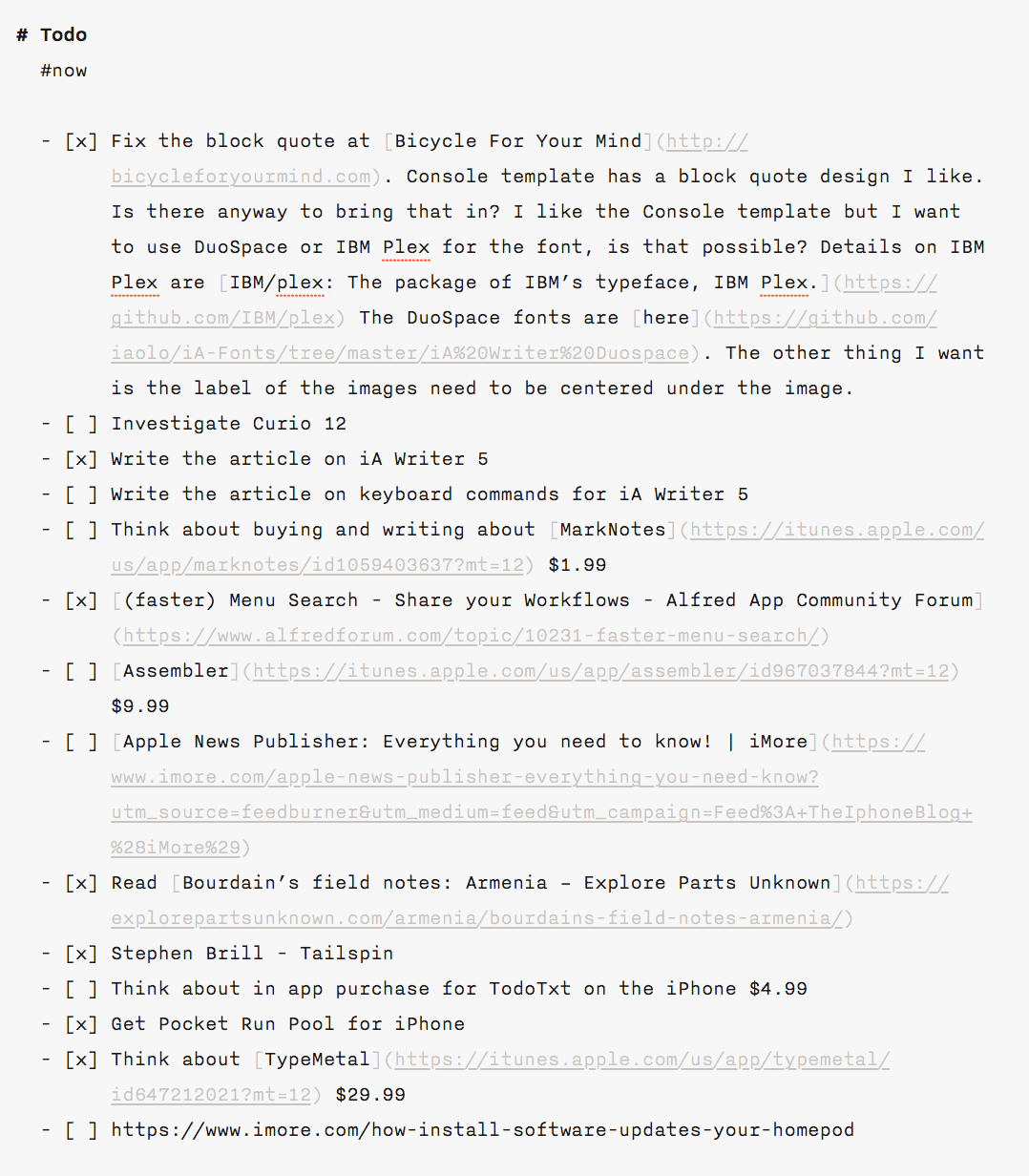 iA Writer ToDo
Tasks and Task Stats: iA Writer now supports the MultiMarkdown task feature and gives you the ability to toggle tasks done with a simple click. There is a running tally of (tasks done)/(total tasks). You can maintain separate todo lists or can have todo's in any document you are working on. It is a great way to remind yourself of unfinished tasks related to the document you are working on.
Is iA Writer 5 the Best Markdown Based Text Editor?
Based on my criteria at the start of this article I must say that iA Writer makes a compelling case in its favor.
iA Writer supports all of MultiMarkdown.
You live in the world of individual text files in iA Writer. You get to specify a default extension for your Markdown files.
Version 5 of iA Writer brings file management to the toolset. Complete toolset of file management tools enhanced by the ability to drag and drop folders and files into iA Writer and between the folders managed by it.
iA Writer is fantastic at presenting little touches which make the act of writing Markdown pleasant.
User definable previews are built into iA Writer. You can also use Marked 2 to provide the previews.
The Markdown syntax is not hidden and it is presented with syntax highlighting in both the light and dark theme.
Typewriter scrolling with sentence and paragraph focus makes the process of writing pleasant. The only enhancement I would love in iA Writer is an user-selected point for the typewriter scrolling to kick in. Ulysses and Composer does a better job of this.
There is a dark theme and a light theme in iA Writer. They are not customizable. It lacks support for Solarized.
There is extensive support for keyboard commands. The ones missing I have included through Keyboard Maestro macros. Read about it here. Some of the keyboard commands have changed in this version, expect an updated version of this article to be posted next week.
iA Writer provides the usual export options including Microsoft Word and TextBundle.
In my use, this is the best Markdown based text editor available on the macOS. Both Composer and Highland 2 provide a few more features but they fall short when it comes to managing your documents and folders.
I find myself using iA Writer all the time. It is the writing workhorse on my computer. Once in a while, I will switch to writing in Composer or Highland when I need a specific feature that they provide. It is iA Writer which is launched and active all the time and it is where the majority of my writing gets done.
iA Writer is recommended heartily.
macosxguru at the gmail thingie
Writing Markdown macOS iA Writer
---
Previous post
Links of Note 2018-05-24
Regain Disk Space from Homebrew This saved 17 GB for me. VidWipe - Delete 'em all - BrettTerpstra.com KillZapper - Click to Kill web annoyances -
Next post
iA Writer 5.0 Keyboard Commands
iA Writer Light Icon iA Writer 5.0 has added/changed a few of the keyboard commands. Here is the new list: Function Command File Menu New