August 30, 2017
Now for Something Completely Analog - a Canteen From Corkcicle
Product: Canteen – CORKCICLE.
Amazon Link: Corkcicle Canteen Waterman Collection-Water Bottle & Thermos-Triple Insulated Shatterproof Stainless Steel, 25 oz, Waterman Seafoam:Amazon:Kitchen & Dining
Price: $27.99 - $54.95
"Drink more water." I was told.
A canteen from Corkcicle is helping me achieve that goal. It keeps my cold water brisk and cold for 25 hours. I love drinking from it. It is well made. It is convenient and it does what it is supposed to do while looking good.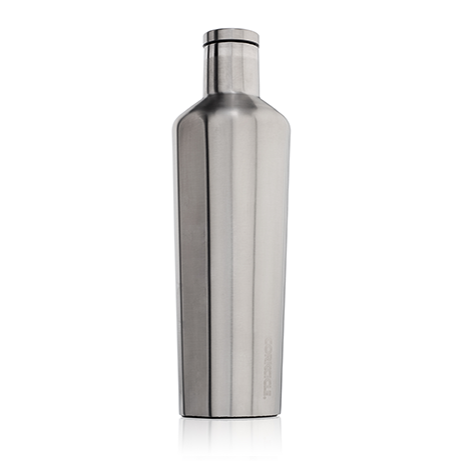 Brushed Steel
Being boring1, I got the steel version. It is also available in some fancy colors. Check them out. Pick your color. Available in 9, 16, 25, and 60 oz versions. I got a 25 oz one.
The best water bottle I have ever used.
Some things I like about it:
It has flat sides to let you hold it.
It has a rubber feet to make it stable.
The top is simple. Easy to clean.
Made of steel. Unbreakable.
I am going to be using mine for a while.
Recommended heartily.
macosxguru at the gmail thingie
---
"That is such a guy color," I was told.↩
---
Previous post
Learning from Ulysses' Struggles With the Switch to a Subscription Model
I have been an user of Ulysses since version 1 of the app. That is a long long time ago. It hasn't been a loyal relationship. Ulysses III managed to
Next post
Keyboard Maestro Tames Text Editors
Keyboard Maestro Icon Product: Keyboard Maestro 7.3.1: Work Faster with Macros for Mac OS X Price: $36 In my off time, I play with text editors.